RETAIL: STORE ARRIVES WITH AN ENTOURAGE OF OTHER BUSINESSES
Zion Market Move Brings Space for Much More
Monday, July 8, 2013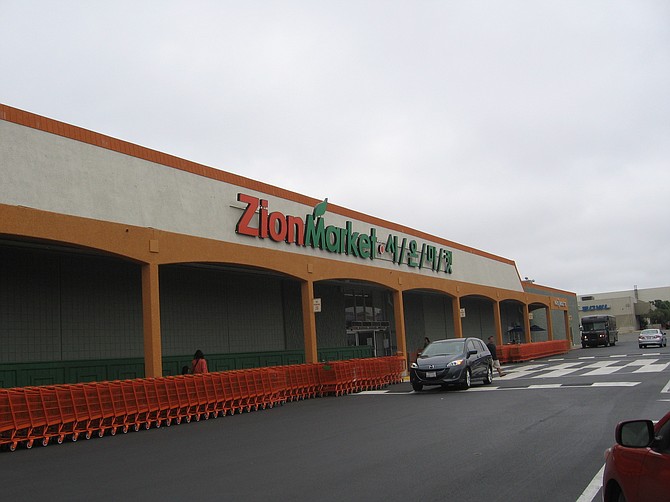 Like the local population it aims to serve, specialty grocer Zion Market was growing at a fast pace and needed a bigger space to operate.
The company, which opened its first Korean grocery market in San Diego in 1979, recently relocated from a Mercury Street location and opened in space three times larger on Clairemont Mesa Boulevard, which previously housed a Sears Essentials store.
At nearly 100,000 square feet, the Kearny Mesa store is now the largest of five operated throughout Southern California by the company, which has expanded over the years to also serve the region's growing Japanese, Chinese and Vietnamese communities.
Its new San Diego space not only houses a full-service grocery store, but also has its own mini-mall, complete with a food court consisting of several separately owned eateries. There are also numerous other sub-tenants operating stores serving the local Asian community, including two wireless carrier stores, a French bakery, a package shipping business, an optical store, a toy store, and a residential real estate office.
'Space for 39 Tenants'
"We had room for 15 different businesses in the old space, and now we have space for 39 tenants," said Timothy Moon, manager of the San Diego Zion Market, which employs approximately 100.
Moon said the new store has 12 checkout registers, double the number in the former location, and nearly 10 times the number of parking spaces, at around 1,000.
Zion is among several operators that have opened new stores, or expanded to larger locations, in order to meet the needs of growing Hispanic and Asian communities in regions including San Diego County. Many of those shoppers are seeking a wider variety of items than are currently available at traditional U.S. chain supermarkets.
The local region's Asian population grew 34.5 percent between 2000 and 2010, to more than 336,000, according to U.S. Census Bureau data. Similarly, the local population that identifies itself as Hispanic or Latino grew 32 percent in that period, to more than 991,000.
Currently, census data indicates, the Asian community represents 11.6 percent of San Diego County's population, with Hispanic and Latino residents representing 32.7 percent, similar to statewide trends.
3.7% Annual Revenue Projected
According to industry research firm IBISWorld Inc., ethnic supermarkets in the U.S. saw revenue grow at an average annual rate of 2.1 percent between 2006 and 2011, reaching $26 billion. Revenue is projected to rise 3.7 percent annually through 2016 at the nation's 17,247 ethnic grocery stores, well above the projected growth rate of less than 1 percent for the overall supermarket industry.
Researchers said demand is being driven by growing Hispanic and Asian populations across the U.S., with those two categories alone representing 98.3 percent of ethnic grocery store sales.
Nikoleta Panteva, senior retail analyst with IBISWorld, said the appeal of the ethnic markets has grown well beyond their targeted communities, especially as the rise of the "foodie" culture spurs consumers overall to seek out new flavors and sometimes healthier items. Because the ethnic grocery stores are able to buy and make their specialty items in larger quantities than traditional supermarkets, pricing is often more favorable for the same items.
"The Asian markets tend to go beyond selling products to emphasize more of an overall experience," Panteva said. "You will very often find that they have their own food courts, where people can buy food and dine on-site."
IBISWorld notes that ethnic grocers, including those that operate in San Diego County, have also made efforts to highlight their involvement in communities. For instance, Torrance-based Japanese grocer Mitsuwa sponsors seasonal food festivals targeting cultures within its consumer base; and grocery chain Vallarta Supermarkets, based in Sylmar, sponsors similar events geared to the Latino population.