HOSPITALITY: PLANNED DOWNTOWN SITE IS 22-STORIES
Financing Climate Spurs Hotel Growth
Monday, July 8, 2013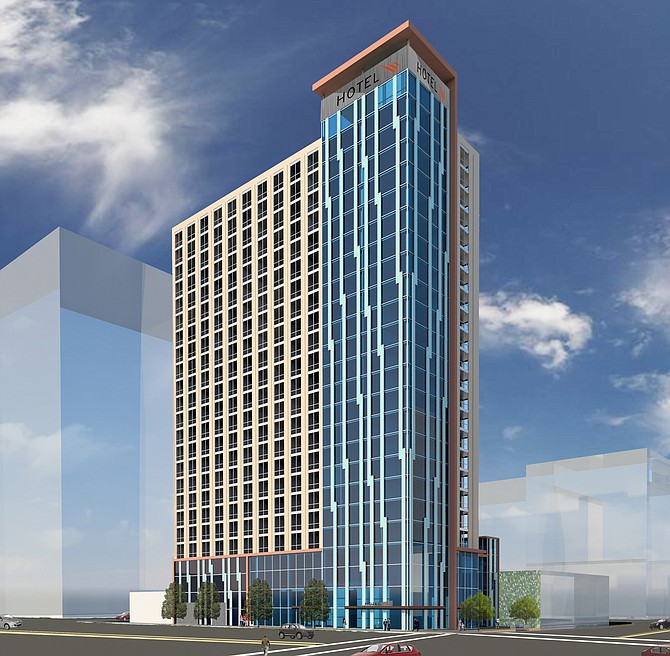 JR Legacy Holdings LLC has plans for a $65 million, 410-room hotel in downtown San Diego's Columbia neighborhood, which some observers see as a sign of a continued thawing in financing prospects for large new hospitality projects.
Local civic planning committees this month are scheduled to review preliminary design plans for the Los Angeles-based developer's 22-story project, as yet unnamed, proposed for a site at 401 W. Ash Street that is currently a parking lot.
According to documents filed with Civic San Diego, the city's downtown development oversight agency, plans also call for 3,200 square feet of retail/commercial space and 133 parking spaces in two levels of subterranean parking. The project site is a 19,981-square-foot parcel located on the northeast corner of the block bounded by Ash, A, Columbia and State streets.
Possible 2014 Start
The project is being spearheaded by San Diego-based PierPoint Management LLC, which has overseen hotel projects on behalf of client developers throughout California. Michele Vives, a project manager with Tucker Sadler Architects Inc. who is overseeing the local approval process, said developers have tentative plans to start construction in the first quarter of 2014 and complete the project by the fourth quarter of 2016.
Developers remain in talks with potential hotel operators and commercial tenants. Vives said developers are aiming for a mid-priced hotel with a full-service on-site restaurant, a separate coffee or tea shop, and a few other retail or service businesses.
"The location is close to Little Italy and within walking distance of the Gaslamp Quarter, so it should get a good mix of business travelers and tourists," Vives said.
Willing Lenders
Vives said the project arrives as developers are anticipating rising demand for hotel rooms over the next few years, especially if a planned $520 million expansion of the San Diego Convention Center is completed around 2016. Another key element is that financing prospects for hotel projects are now much better than they were just a year or two ago.
"The banks are becoming more comfortable with financing hotel projects," Vives said. "That's something that I started to see in early 2013, and it probably was not the case even in late 2012."
The proposed Ash Street hotel is in the same neighborhood where locally based developer The Chhatrala Group has proposed Columbia Tower, a $100 million project that would include a 387-room, dual-branded hotel to be operated under the Hyatt Place and Hyatt Summerfield banners, with four for-sale condo units planned for the tower's top two floors.
Prev Next