MEDICINE: IT MAY SAVE HEALTHY TISSUE FROM SURGEONS' KNIFE
Protein Fragment Paints A Target on Cancer's Back
Monday, January 21, 2013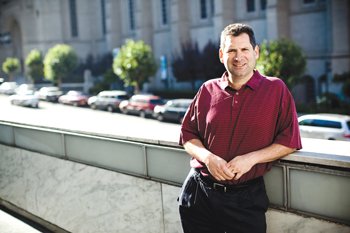 Avelas Biosciences Inc.
CEO: Jay Lichter.
Funding: Undisclosed startup funds, plus $7.65 million in Series A financing from Avalon Ventures.
No. of local employees: 5.
Headquarters: La Jolla.
Year Founded: 2009.
What makes the company innovative: It has licensed technology from UC San Diego, and its Nobel prize-winning biochemist Roger Tsien, that uses fluorescent protein particles to detect cancerous cells.
Key factors for success: The company's technology can meet an unmet need — allowing surgeons to more effectively target cancerous tissues during an operation. According to the company, its method has proven safe in animal models, and the company is headed toward clinical trials.
When a cancer patient is on the operating table, surgeons have to determine on the spot which lymph nodes are healthy and which need to be removed...