General Atomics ASI Receives $110.5M Army Contract for UAV Logistics
Sunday, December 15, 2013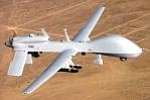 The U.S. Army awarded Poway-based General Atomics Aeronautical Systems Inc. a $110.5 million contract for continuing logistics services related to the Army's version of the Predator unmanned aircraft. A Pentagon announcement from Dec. 13 said work will be performed in Poway and Afghanistan, and will continue through December 2015.
The Army aircraft has been called both the Warrior and the Gray Eagle. The aircraft can stay in the air for 25 hours, can collect intelligence with its sensors and can carry four Hellfire missiles.
The Army Contracting Command of Redstone Arsenal, Ala., awarded the deal.
— SDBJ Staff Report