Filner Resigns; Business Community Had Been Calling for Change
Originally published August 26, 2013 at 12:07 a.m., updated August 26, 2013 at 8:29 a.m.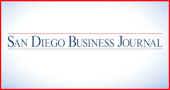 Mayor Bob Filner said that he would resign Aug. 30 as part of a deal approved by the City Council in a 7-0 vote.
Business organizations began calling for the mayor to step down in early August as the sexual harassment scandal developed.
The Business Leadership Alliance, a group made up of 44 business organizations, called for the mayor's resignation recently, saying the scandal was hurting the city's business climate and reputation.
Filner's former communications director filed a sexual harassment lawsuit in July alleging she was a victim of unwanted sexual requests. Several other women came forward with allegations of misbehavior against the mayor.
Biocom, the trade association of the local life sciences industry, had also called on Filner to resign over the scandal. "Nothing even vaguely resembling this level of behavior would ever be tolerated in the private sector," said Joe Panetta, Biocom's CEO. "At a time when the life science community in San Diego has enjoyed unprecedented success, the city of San Diego itself has effectively become a punch line, and the mayor's credibility has been damaged beyond the point of any reasonable expectation of rehabilitation."
Filner's relationship with the business community was a rocky one from the start. The mayor clashed with the San Diego Tourism Authority over the release of tourism marketing district funds for the promotion of San Diego.
Filner was accused of interfering in already approved development projects, actions that sent "a chilling effect to everyone in business," said former Mayor Jerry Sanders now the CEO of San Diego Regional Chamber of Commerce in a recent interview.