PROPERTY: TIGHT RETAIL MARKET DRAWING INVESTORS
There's a Line to Get In Gaslamp Properties
Monday, August 12, 2013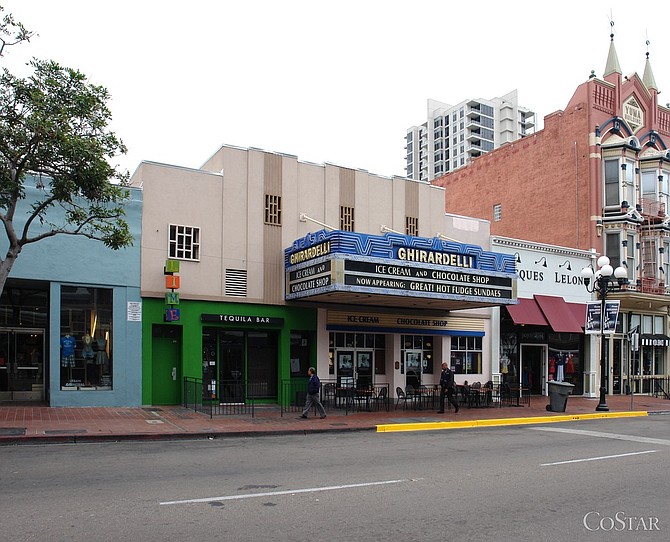 Among other big recent Gaslamp deals, Maryland-based ASB Real Estate Investments bought three adjacent Gaslamp buildings on Fifth Avenue at G Street, for $15.25 million. The buildings are fully leased to Urban Outfitters, Ghirardelli Chocolate Co. and The Lime restaurant.
In 2012, the building at Sixth and G that once housed a Borders bookstore was acquired by locally based Monro Capital Inc., for $8 million. According to brokerage firm Cushman & Wakefield, which is handling leasing, the Brazilian-style steakhouse chain Fogo de Chao will debut on the building's first floor this fall, joined on the second floor by education services provider Kaplan International, which is moving its local office from La Jolla.
London-based Kaplan International provides courses for international students, preparing them to study at American universities. David Maxwell, a senior associate in Cushman & Wakefield's San Diego office, said the Gaslamp arrival of Kaplan is a natural outgrowth of a trend that has seen several education and language-services providers locate downtown over the past several years, partly to be near amenities convenient to students.
Brokers noted the first half of 2013 saw a significant acceleration in downtown retail leasing, following more than two years of slow to flat growth. Maxwell said downtown's traditionally tightest retail neighborhoods — Little Italy and the Gaslamp Quarter — are now tighter than ever.
Little Italy
At midyear, Little Italy's retail vacancy rate stood at 2.3 percent, down from 4.8 percent a year ago. The Gaslamp Quarter's was 3.4 percent, down from 5.6 percent at the midpoint of 2012, Maxwell said.
In the East Village, long the most sluggish downtown retail neighborhood, things are now perking up; retail vacancy has dropped from 15 to 11.4 percent in the past year.
"The younger demographic especially is moving to these urban cores," Maxwell said. "As those apartments are finished in East Village, you're going to be seeing the retail vacancy going down even more."
Brokers said a large portion of the ground-floor retail spaces in still-to-be-completed mixed-use and apartment projects in East Village is spoken for.
In the Gaslamp Quarter, continued tightness amid rising demand will likely spur demolition of some older buildings to make way for new restaurants and hotels within the next two or three years, brokers said, provided the properties are not designated as historical sites.
County's Property Climate
Downtown has recently been much hotter than San Diego County's overall retail property climate. Cassidy Turley reported that countywide retail vacancy fell to 5.9 percent as tenants absorbed more than 500,000 square feet of space in the 18 months ending Dec. 30, 2012.
By mid-2013, however, countywide retail vacancy had climbed to 6.7 percent, as the region recorded negative net absorption and rents dropped 4 percent from a year ago.
Local vacancy is still below the peak of 7.2 percent seen in mid-2009. Observers have noted that San Diego remains among the nation's tightest major metro retail markets, due to limited land availability and other barriers to new
construction.
Prev Next