PROPERTY: MIXED-USE PROJECT SEEN AS CATALYST
Smart Growth Is Part of Plan for La Mesa
Monday, August 5, 2013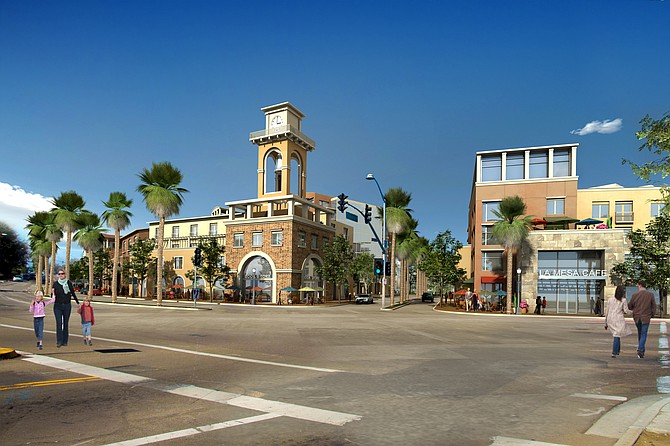 Developers are in early planning stages for Park Station, a proposed $200 million mixed-use project that would bring more than 400 multifamily residential units, retail and related commercial elements to downtown La Mesa over the next five to 10 years.
Observers said the development, being spearheaded by San Diego-based Urban Housing Partners Inc. and proposed for a total of seven acres near the central village district, would be the city's largest commercial project since the last portions of Grossmont Center were built several years ago.
"We're hoping that it will be a catalyst for other types of projects around the central village area," said William Chopyk, La Mesa's community development director, noting that planners are currently doing environmental and related studies on the project.
414 Multifamily Units
Urban Housing Partners Principal Sherman Harmer, who is project development manager for Park Station, said designs are still being finalized. Depending on market demand, the general concept calls for 414 multifamily units, with a mix of apartments and for-sale condominiums still to be finalized.
While original concepts included a structure as high as 18 stories, Harmer said buildings at Park Station will now likely be no more than nine stories, in order to address community concerns and keep building sizes on par with what is already in place elsewhere in La Mesa.
Developers are in talks with operators of retail shops, eateries and other commercial businesses that would serve residents of Park Station. Harmer said a later phase of the project could include a hotel of around 150 rooms, as well as offices.
To Be Built in Phases
The project is likely to be built out in two or three phases over the next decade. For now, Harmer said the focus is on creating a "smart growth'' community, in line with California lawmakers' moves to curb greenhouse gas emissions by emphasizing the development of urban infill communities that encourage walking and cut down on vehicle trips.
The project site is about a quarter-mile from the city's trolley station, and also near Interstate 8 and state Route 94.
"This is meant to be the kind of development where people would be able to live, work and have recreational options, without having to get into a car," Harmer said.
Harmer's firm is working on behalf of the Kitzman family, which owns most of the land where the development is being planned, and the local American Legion chapter, which owns one parcel within the project site.
The Kitzman family, which has owned the central village properties for more than 50 years, and the American Legion are project co-applicants, seeking an amendment to existing zoning that would allow for the mixed-use project.
Harmer said the properties in the project area, mostly along Baltimore Drive and University Avenue, have long been targeted for revitalization. They include parcels currently being used for RV sales, parking lots, auto repair facilities and miscellaneous retail businesses.
Studies done by the developers have estimated that the project at full build-out would create approximately 420 permanent jobs and several hundred construction jobs, generating approximately $1 million annually in new tax revenue for the city.