BIOTECH: TWO FIRMS CAPTURE HUGE SHARE OF REGION'S 2ND QUARTER VC DOLLARS
Backing Biotech Innovation
Monday, September 24, 2012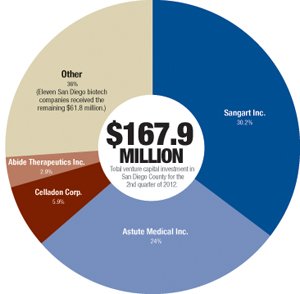 Current investors in Celladon, which employs a dozen full-time staff in addition to several contractors, include Pfizer Venture Investors, Novartis Venture Funds and Johnson & Johnson Development Corp. Wiklund said the investors were attracted to the company's earlier stage clinical data. Also, without a lot of therapies available for heart failure, there is a very large unmet need in these patient populations, he said.
"The data that we had in the earlier Phase 2 trial was very encouraging and we hope we can provide these patients with a new therapeutic option to treat their disease," said Wiklund, adding that patients often turn to a left ventricular assist device or face heart surgery when they exhaust the pharmaceutical products on the market.
Wiklund said Mydicar shows potential for gaining FDA approval based on the trial currently being undertaken but with long lead times, the norm in the pharma business, approval is not likely until 2017 to 2019.
Abide Therapeutics Inc. in Torrey Pines is making progress with $6.6 million invested in the company from Cardinal Partners of New Jersey and friends and family since Abide was founded in 2011.
Alan Ezekowitz, CEO, president and co-founder of Abide, said the science driving the investment is based on technology developed at Scripps Research Institute by Professors Ben Cravatt and Dale Boger which focuses on unlocking the potential of an inhibiting enzyme called serine hydrolases. About 125 of these enzymes in the human genome play an important role in thought processes, food digestion and blood clotting, Ezekowitz said. Scripps investigators developed a chemical library of compounds which targets this group of enzymes. The chemicals, when bound to the enzymes, have the ability to knock out their function.
Alternative to Medical Marijuana
One application is creating an alternative to medical marijuana for treating pain, Ezekowitz said.
"If you inhibit these enzymes they cause the natural chemicals in the brain to increase and so you would anticipate having positive effects on pain and sleep without the psychotropic effect you have with marijuana," he said. "This has been shown with animal models."
Other applications include treating metabolic diseases such as diabetes and heart disease as well as inflammation and inhibiting bacteria which are resistant to current antibiotics.
"The business strategy is to have six pillars that represent disease indications that this product engine can support," Ezekowitz said.
Ezekowitz said investors have been attracted to the company in part because of the broad applications of the technology and this optimism has been supported by the research alliances Abide has made with companies such as Cubist, which is delving into using Abide's chemical libraries to make new antibiotics, as well as a partnership with Scynexis to determine whether it can make antiviral and antiparasitic compounds, and with Novartis in seeking the development of novel anti-inflammatory drugs. He additionally credits Cardinal Partners' interest in Abide, which has seven employees locally and 10 chemists in China, to the company's good relationship with Scripps Research Institute.
"They're extremely capable and professional in the way they transfer technology from the Institute to startup biotech companies," he said. "Their scientists maintain active involvement in Abide, which is another important variable that encouraged Cardinal Partners to invest in the company."
Prev Next