BIOTECH: TWO FIRMS CAPTURE HUGE SHARE OF REGION'S 2ND QUARTER VC DOLLARS
Backing Biotech Innovation
Monday, September 24, 2012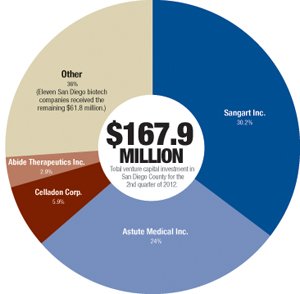 Also in the second quarter, Astute Medical of San Diego, a developer of novel, biomarker-based medical diagnostics, announced the completion of a $40.4 million Series C financing led by MPM Capital and including new investor Kaiser Permanente Ventures.
Founded in 2007 by two former members of the management team at Biosite Inc., Chris Hibberd and Paul McPherson, Astute is a diagnostics company that is focusing on the study and validation of biomarkers that can be commercialized as novel tests to serve unmet diagnostic needs. Essentially, the company says it studies new and known biomarkers — individually and in combination — seeking to discover utilities that can be applied to diagnosis or risk assessment. Areas of applications include kidney injury, sepsis, abdominal pain and acute coronary syndrome.
Expanding R&D
Astute Medical is currently preparing to commercialize its first test in Europe. Not yet approved for sale in the U.S., the test is intended to aid in the risk assessment of kidney injury in critically ill patients.
The company intends to use the proceeds of its investment to begin commercializing its first product, as well as to advance and expand its research, development and validation of biomarker-based laboratory tests.
"Astute Medical has made rapid progress in its development of biomarker-based diagnostics to address major unmet medical needs," said Jim Scopa, managing director of MPM Capital. "We are excited to fund the commercialization of Astute's first product as well as the continued development of the pipeline."
Another leader in the quest for VC funding is Celladon Corp., a Del Mar biotech founded in 2004. Celladon's Head of Corporate Development Fredrik Wiklund said the company altogether raised $53 million in two tranches, with $43 million announced in February and an additional $10 million in the same round announced in May.
"It's all considered the same tranche, it's just that two investors came in at a later date under the same terms," Wiklund said. "The proceeds will go toward the clinical trial and toward the manufacturing of our product."
The key driver for the company is Mydicar, which is in a Phase 2b clinical trial and targets a key enzyme deficiency in advanced heart failure.
Heart Failure Cases on the Rise
More than 670,000 new cases of heart failure will be diagnosed in 2010 and that number increases yearly, according to Celladon, which states that the economic burden of heart failure in the U.S. in 2010 was estimated at $39.2 billion.