BIOTECH: TWO FIRMS CAPTURE HUGE SHARE OF REGION'S 2ND QUARTER VC DOLLARS
Backing Biotech Innovation
Monday, September 24, 2012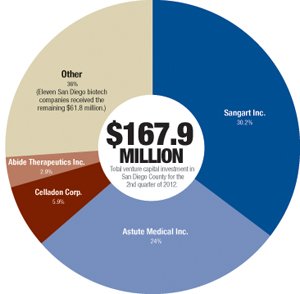 Two companies emerged with the majority of venture capital investments among the $167.9 million invested in San Diego's biotech sector in the second quarter of 2012. Sangart Inc. raised $50.7 million, or 30.2 percent of the total, and Astute Medical Inc. brought in $40.4 million, or 24.1 percent.
A variety of 11 biotech companies attracted the remaining investments ranging from several million dollars for BioSurplus Inc. to $16.5 million for Obalon Therapeutics Inc., according to a MoneyTree report from PricewaterhouseCoopers and the National Venture Capital Association.
Global biopharmaceutical Sangart of Mira Mesa is in late stage development with two clinical programs, MP4CO in Phase 1 studies as a treatment for sickle cell anemia, and MP4OX in Phase 2 studies as a treatment for trauma. Both are being studied in Europe as well as South America, South Africa, the Middle East and Southeast Asia. Sangart President and CEO Brian O'Callaghan said both programs are expected to come to a conclusion by the end of this year, with data for both studies appearing early next year.
During May, the company with nearly 100 employees announced it secured $50 million in equity funding from existing investor Leucadia National Corp. of New York City. This funding was made upon the exercise of Series G preferred stock warrants previously held by Leucadia and brought the total funding raised by the company since inception to more than $280 million, according to Sangart.
Cleared to Proceed
The funding followed a favorable review by an independent data monitoring committee, a drug safety monitoring board consisting of clinical experts based at various institutions around the country. The committee reviewed safety data from the first 122 patients enrolled in the Phase 2b trauma study involving MP40X and cleared the study to proceed.
"They've twice looked at the data and twice told us it's OK to proceed to the end of the study," O'Callaghan said.
With roughly $50 million from Leucadia and the remaining from other investors, Sangart, founded in 1998, is preparing to finish the MP4 clinical programs and preparing for Phase 3 for trauma and Phase 2 for the sickle cell anemia trials.
"We continue to see promise in our unique MP4 gas-delivery platform, focused on developing therapies for patients in crisis who are experiencing ischemia (oxygen deprivation of tissues) and organ dysfunction as a result of hemorrhagic shock injury or a vaso-occlusive crisis associated with sickle cell disease," O'Callaghan said, in a statement.
Prev Next