PROPERTY: SALES AND PRICES ARE UP; COUNTY FACES LACK OF HOUSING INVENTORY
Moving in a New Direction
Monday, September 17, 2012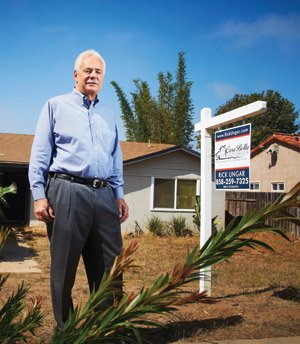 San Diego's residential real estate market has definitely stabilized, as evidenced by a higher number of sales and rising house values, but the lack of inventory remains problematic.
"We're probably down to two months inventory when in a normal market there'd be six to eight months of inventory," said Jay Berger, a broker with SoCal Real Estate in Carlsbad. "The prices are going up because there's less to bid on."
According to Dataquick, the La Jolla-based research firm, home sales in the county rose 17 percent in July, compared with July 2011, while the median housing price increased 5 percent to $342,000.
Dataquick found a similar upward trend for the entire Southern California region with home sales rising 14 percent and the median price growing 8 percent to $306,000 over the year.
The uptick was due to several factors, including greater demand spurred mainly by low mortgage rates, and fewer homes to choose from, which produced higher prices because of the increased demand.
To illustrate the effect of the reduced inventory, Rick Ungar, a broker with Casa Bella Realty Services in Carlsbad, cited a recent listing on a house he represented just east of Interstate 5 that was priced at $368,000.
Cash Is King
"We got 31 offers in the first two days it was put on the market," Ungar said. "And of those offers, more than 20 were all-cash."
Ungar said the property was bid up above $400,000 from a cash buyer, and in escrow at the time of the interview. Cash investors are still major players in the regional market. They made up 31 percent of all July home sales in Southern California, compared with 29 percent of all July 2011 sales in the region, according to Dataquick.
Ungar said a major reason behind the rising home prices this year has been a shift in the way banks deal with defaulting borrowers. In the past, most lenders were intent on foreclosing and wouldn't entertain negotiating with borrowers who didn't make their monthly payments.
But that's been changing in the last few years. Short sales, or banks accepting less on the sale than what is owed on the mortgage, is becoming more common as banks take a different tactic in dealing with the massive number of borrowers whose loans are far greater than their house market value, he said.
"It took the banks five years to realize that they'll lose less money on short sales than they would if they go into foreclosure," Ungar said.
Prev Next