BANKING: SELLING OUT SEEMS LIKE BEST OPTION IN DIFFICULT ENVIRONMENT
Community Banks Face Big Decisions
Monday, September 10, 2012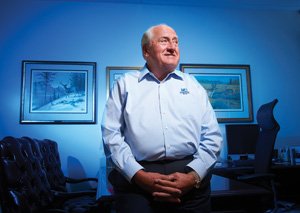 For the most part, the banking industry has recovered from the turmoil of the financial crisis. Mega-banks such as Wells Fargo, JP Morgan Chase and U.S. Bank, along with lots of regional banks like Union Bank, Pacific Western Bank and Comerica continue to log higher profits, but it's quite a different story with community banks.
In San Diego, a combination of low loan demand, lower interest rates and increased regulatory expenses caused a larger number of smaller lenders to throw in the towel, and sell their franchises to larger, better-capitalized banks.
From a total of 22 community banks based in San Diego about a year ago, the area now has only 16 institutions with headquarters here.
The fallout is even more dramatic looking back to the peak of local banking in 1985. According to the state's Department of Financial Institutions, the county was home to 50 banks and savings and loans that year. In 2004, the number dropped to 34, the DFI said.
"There're a lot of headwinds out there for the banking industry," said Larry Hartwig, who engineered the sale of California Community Bank to Grandpoint Capital, a Los Angeles multibank holding company this year.
Dodd-Frank Increases Costs
At the top of his list of causes for the reduction is the Dodd-Frank banking reform legislation that increased regulatory compliance costs for every bank, but hurt smaller banks the most, Hartwig said.
For example, adopting an automatic filing system for suspicious banking activity will likely cost a small bank $30,000 to $40,000 annually, he said.
It was a bunch of higher expenses such as that, along with a crummy economy that caused loan demand to dry up, along with lower interest rates (cutting into profits) that caused CCB's board of directors to consider selling in late 2010.
The $240 million bank entertained a number of suitors through much of 2011, until it struck a deal with Grandpoint, announced in January, which officially closed last week.
CCB will be merged into Regents Bank, another local lender that was sold to Grandpoint a year ago.
CCB's departure was mitigated somewhat by the fact that most of its branches and staff will be retained by Regents, which kept its branches, staff and name after the sale.
Mergers Abound
Earlier this year, Security Business Bank of San Diego was sold to AmericanWest Bancorp. That Spokane, Wash.-based lender was acquired in a 2010 federal bankruptcy court transaction by SKBHC Holdings, a private equity group, for a relative pittance, about $6.5 million.
AmericanWest, which also acquired San Diego-based Sunrise Bank in 2011, is now at $2.5 billion in assets and 74 branches, spread over four states.
Another merger that reduced the local bank number occurred when Embarcadero Bank purchased Coronado First Bank, and took its name. Also, PacTrust Bank, formerly based in Chula Vista, moved its headquarters to Irvine to be closer to the new acquisitions of its holding company, First PacTrust Bancorp.
The biggest challenge among smaller banks when they're launched is growing to a size where the loan portfolio throws off regular profits, and its efficiencies improve, said several bankers.
Mike Perry, chief executive of San Diego Trust Bank, said that magical number used to be about $100 million, but in recent years because of thinner profit margins, and increased costs, the new threshold is likely closer to $250 million to $300 million, or even above that.
Without any great loan demand, and lots of competitors chasing the same borrowers, it's much harder to grow to that size within a reasonable time, Perry said.
No New Banks Since 2008
Not only has the consolidation activity cut the number of community banks, there are no new banks taking their place, bankers point out.
The last local bank launched here, Vibra Bank, opened in 2008.
In contrast, from 2000 to 2004, 15 new banks were launched in the county, including the Bank of Internet USA, which proposed to serve the entire nation through an entirely online operation.
Greg Garrabrants, chief executive for the bank now called BofI Federal Bank, said it's highly unlikely there will be any new banks formed in the next few years because it's easier and cheaper to buy a bank.
BofI increased its assets by about $500 million over the past year to $2.4 billion, a phenomenal rate given the state of the economy.
"The nature of the economics of this business is such that you need to have scale to run a bank," Garrabrants said. "The increased regulatory burden and the prolonged (low) interest rate environment has had negative effects on community banking."
Investors Not Interested
A more compelling reason behind the lack of new banks is the fact that finding investors for such an enterprise would be challenging.
"Who would want to do it?" asks Hartwig. Back in the late 1990s when bank stocks were hot, and selling for more than twice their book value, the investment play made a lot of sense, and investors were relatively easy to attract, he said. Today, the average bank stock is going for about 65 percent of its book value, meaning sellers are taking a loss.
So what does this ongoing consolidation mean for the remaining banks and consumers?
While there may be fewer options, options still exist and consumers won't be impacted that much, says Alan Lane, chief executive of Silvergate Bank in the University Towne Center area. Silvergate is another lender bucking the trend of shrinking in size mainly because it avoided a lot of mistakes made by other banks prior to the financial crisis.
"We made a conscious decision not to participate in a lot of the excesses that were going on," Lane said.
Instead of growing, Silvergate cut way back on lending. As a result, by 2009 while many other lenders were dealing with higher amounts of problem loans and stopped lending, Silvergate was picking up lots of new business.
As of June, it had $560 million in assets, nearly doubling the $284 million in assets held at the end of June 2008.
Lane said his bank is at a size where it can weather the ongoing increases in regulatory oversight brought on by the passage of Dodd-Frank, which is penalizing smaller banks when it was the biggest banks that caused most of the problems.
"There's a big push to rein in the excesses that led to the downturn, but (regulators) are going overboard. It's like swinging a baseball bat to hit a fly," Lane said. "The community banks are being lumped in with the biggest banks and the community banks weren't the source of the problem."
Despite the headwinds, there will always be community banks in this area because many small businesses prefer knowing their bankers, and having the ability to talk with them when necessary, rather than dealing with layers of decision makers, several bankers said.
When it comes to the customer service small businesses receive at community banks, it's a sharp differentiator from the larger lenders, said Rick Levenson, president of Western Financial Corp., a private investment firm that specializes in community banks, and a director on two bank boards.
"What it comes down to is, do you like shopping at Walmart or do you like shopping at Nordstrom's?" he said.