E-COMMERCE: DEVICES GIVE MERCHANTS EASY WAY TO TAKE PLASTIC PAYMENTS
Getting in the Card Game
Monday, September 3, 2012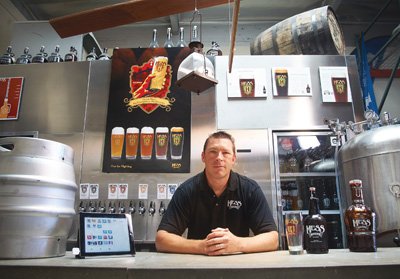 People who visit Hess Brewing can enjoy a fresh beverage whose origins go way, way, way back in human history.
When it comes time to pay for a beer, however, owner Mike Hess opts for a 21st century twist on the credit card machine. Hess records the transactions from the tasting room at his microbrewery using an Apple Inc. iPad with a specialized attachment and software. The iPad serves "more or less as a cash register," the brewer said.
San Francisco-based Square Inc. produces the system that Hess uses. Thousands of other merchants in the region use it too, according to a company spokeswoman.
Square offers a free card reader that attaches to an iPhone or iPad. The merchant swipes a credit card through the reader, then has people sign for the transaction on the iPad, iPhone or Android device.
Square charges 2.75 percent per transaction.
The device helped Hess quickly switch from a cash-only operation to one that accepts credit cards. "We probably do close to 70 percent of our business in credit cards," he said.
Software Now Tracks Inventory
Hess said during the two years he's been in business, Square's software has evolved so that it now helps him keep track of inventory.
Another business that uses Square in conjunction with iPads is Refresh Coffee, a 2-year-old outfit that has coffee carts outside Alvarado Hospital Medical Center and in the Sabre Springs neighborhood.
Patrick Neal, a 26-year-old entrepreneur, runs the carts with a staff of five people. "I'm 100 percent pleased with Square," said Neal.
Neal has also used credit card terminals supplied by his bank, but the banks charged account fees and maintenance fees on top of taking a percentage of each transaction. What's more, the equipment he received had a tendency to break. "I went through three or four card readers," Neal said.
Square's pricing system is simpler than the banks'. "If you don't swipe anything, you don't pay money," he said.
Neal uses a second variation of Square's services, called Pay With Square, where a person uses his mobile phone to pay for a coffee drink.
When it's time to pay, a customer's name and photo appear on the cash register. The clerk confirms the customer's identity, presses a button and puts the charge on the customer's card.
Starbucks Is Investing
"You don't even have to take out your wallet," said Square spokeswoman Lindsay Wiese.
Prev Next