Executive Profile: Gary Peterson
Monday, September 3, 2012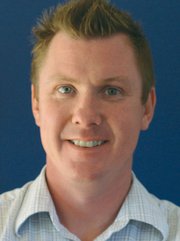 RESUME
Name: Gary Peterson.
Company: Gap Intelligence.
Title: President.
No. of employees: 27.
Year founded: 2003.
Education: Texas A&M University.
Birthplace: Alamogordo, New Mexico.
Age: 39.
Current residence: Point Loma.
Family: Wife, Teresa.
Gary Peterson is the president of Gap Intelligence, a values-led corporation that works with information technology and consumer electronics manufacturers by providing up to the minute competitive intelligence information. The company strives to deliver the highest quality of research and service to its clients, expand opportunities and professional growth for its team members and recognizes the central role that business plays in the community.
The company and its employees say they strive to contribute to "something bigger than ourselves and trust that our hard work will turn into something great and that we'll have fun along the way."
BUSINESS PHILOSOPHY
Essential business philosophy: Culture comes first. If your company culture is strong, the little things take care of themselves.
Best way to keep a competitive edge: Stay paranoid. Constantly think of how your business can be undercut by a competitor or deemed irrelevant by your clients.
Guiding principles: We are a people factory, and we cherish our people's commitment to us. Give your team a wonderful place to spend their day and they will give back 100 fold.
Yardsticks of success: Happy team members and happy clients. We have lost two full-time employees and one client in nine years.
Goals yet to be achieved: Expansion to Asia and Latin America.
JUDGMENT CALLS
Best business decision: We bought a supplier in 2010 that enabled us to bring our data collection in house. While a painful endeavor filled with pitfalls, we now control our own destiny.
Worst business decision: The inability to simply cut losses and move on — from employees to business partnerships. Hoping that things will work out with employees or partners has been a very expensive lesson for us.
Toughest business decision: There have been times that we have had to turn down business because we knew it didn't fit our capabilities and would not be profitable for us in the long run. Turning down business is very difficult, but has proven to be the right thing to do.
Biggest missed opportunity: I think "What if…"every time I read about China and Brazil.
Mentor: My Dad. A high school dropout who joined the Army at age 17, he outworked everyone else to become a pilot, businessman, and a great father.
Prev Next