HEALTH: INVESTMENT IN EMPLOYEE WELLNESS PAYS OFF FOR COMPANIES
Putting a Price on Good Health
Monday, October 8, 2012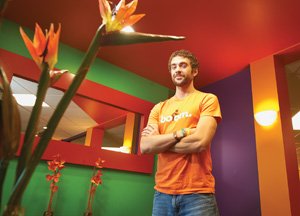 National Studies Show Return
Osburn said national studies have shown the return on investment for companies participating in wellness programs ranges from $3 to $8 over time.
"We are literally preaching the gospel to clients that they are going to get ahead of the increasing health care cost trend," Osburn said.
At MD Revolution in La Jolla's XiMed Medical Center a variety of tools, from genetic testing to mobile health technology and personalized medicine, are used to improve lives and lower health care costs. In addition to an online portal, MD Revolution employs a dashboard and alerts system, mobile health tracking, mobile apps, biometric screening to evaluate such things as blood pressure and cholesterol levels, genomic tests as well as personal fitness and nutrition plans.
Clients evaluated at MD Revolution can receive a Personal Health Profile that compares current resting metabolic rates and fitness levels to goals, specifies recommended caloric intake to achieve desired weight loss, and provides body composition and analysis data. Along with a wellness score, the Personal Health Profile includes a report card on metabolism, fitness, visceral fat, bone mass and body fat.
"The more leverage you get through using different components the more comprehensively you're treating patients," said Dr. Samir Damani founder and CEO of MD Revolution. "Nearly 100 percent of patients going through our program are observing statistically significant improvements in one of four key performance metrics — reduction in visceral body fat, improvement in metabolism, decrease in body fat and increase in respiratory fitness."
MD Revolution states that its programs cost from $150 to $800 per year but the anticipated ROI per employee per year as defined by improved productivity, and reductions in absenteeism, presenteeism and health care claims is $1,000 to $2,000 for zero risk factors, $3,000 to $9,000 for one risk factor and $9,000 to $18,000 for two or more risk factors.
Another option for companies interested in implementing a wellness program is Barr Wellness of Pacific Beach. Founded in 2010, Barr Wellness manages 15 clients with a staff of seven.
Barr Wellness owner Korben Konrady says the company sets itself apart from the competition by focusing on onsite coaching, particularly among groups as low as 50.
"The reason onsite coaching is important is because the participation rate is about 75 percent and with other programs you have a really hard time engaging the employees," said Konrady, who lists services such as biometric screenings including blood pressure and body mass index measurements, group exercise classes, and nutritional and exercise plans.
"Every company is going to have a little bit of trial and error to figure out the best programs so that's why it's important to try a variety of things and see what the employees respond best to," he said.
Prev Next