HEALTH: INVESTMENT IN EMPLOYEE WELLNESS PAYS OFF FOR COMPANIES
Putting a Price on Good Health
Monday, October 8, 2012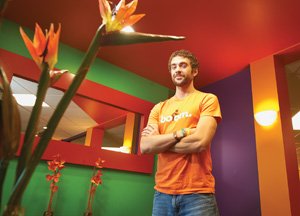 Ross Gensler, business enhancement guru for Sonic Boom Wellness, said the program is fueled by social networking through games and competition such as Joust. Individuals or teams can joust by seeing who can avoid fast-food the longest or some similar competition. Gensler said employers can design which games to turn off and on and use incentives such as virtual trophies to reward participants.
"A new client will start off with the basics and introduce a new module after six months or maybe a year," said Gensler, who reports the company has 80 clients representing 110,000 employees. "The program builds as the employees become more comfortable and familiar with it."
Gensler attributes a high participation rate of 60 percent on average nationally, and as high as 92 percent at its top client, to the fun approach highlighted in its "Wacky Wellness Works" tagline.
"People are more prone to participate when they have several different options and there's typically an option for everyone," he said.
Participation Reduces Premiums
Although Gensler said it's difficult to prove specific return on investments based on participation in wellness programs, he can cite one company with 650 employees that experienced a 9 percent reduction in its health care insurance spending trend in 2011, and another cooperative pool of 27 employers with 1,200 total employees were able to achieve a 6 percent trend in health insurance rate increases compared to an industry trend of 12 percent annually.
Bringing down health care insurance costs is becoming more of an issue with the implementation of the health care reform initiative, according to Maggie Osburn, executive vice president of business development and marketing for locally based Intercare Insurance Solutions.
"If companies don't take a proactive approach, they risk their health care insurance costs going up," said Osburn, explaining that one of the national health insurance companies recently stated that effective January 2014 it will be adding $20 per employee per month to premium rates as a direct result of the health care reform mandates.
Osburn said companies will not only be able to save money through targeted wellness initiatives, but they'll also improve the health of the employee population, and improve the performance of the overall organization by having more productive employees.
"We find companies that are focused on wellness have a very different culture when they start to focus on wellness," she said.
Lane Caruso, senior vice president of health and performance for the Intercare Insurance Solutions, added that the firm's clients are generally very involved in wellness, and for those who do participate in wellness programs, medical plan renewals are below those not engaged in wellness programs, and some have achieved flat or decreased health insurance renewals. Examples include Encore Capital Group, which had no increase for three consecutive years within the past few years, and Volcano Corp., which had favorable renewals for two consecutive years as a result of wellness participation.