Choosing a Banking Partner That Can Help You Grow Your Business
Monday, November 19, 2012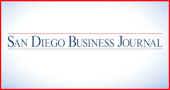 I would like to begin by congratulating all of the honorees of the San Diego Business Journal's Women Who Mean Business Awards. Every business wants to set itself up for success and become one of the leading companies in its industry. The leaders of these companies have a clear vision of where they want to go and what they need to do to get there. But while their objectives and strategy for growth may be sound, they do not always choose partners who can help them grow – especially when it comes to financial services providers.
When a company is being established, it is natural for the principals to work with banking partners with whom they have a track record, and those are often the banks where they have their personal accounts. These banks may provide a high level of personal service and may have some of the resources needed to help the company grow. But in many cases, the company will find that it needs to establish additional banking relationships that offer the more complex solutions needed to support rapid growth. If the transition to the new banking relationship is not a smooth one, an inadvertent consequence may be an interrupted growth cycle during a crucial period of development.
What to look for in a banking partner
In addition to basic commercial banking services, make sure the banks you consider offer the specialized capabilities you will need during every phase of your company's growth – even if you don't currently need them. Here are five key capabilities you should expect from your banking partners:
• Proactive relationship management is key to a successful partnership. It is important for the bank you choose to know your business and understand your industry, so it can be sensitive to areas of strategic importance and develop banking solutions that are pertinent to the unique needs of your company. Having a historical knowledge of your company from day one enables quick turnaround times that can be extremely vital to rapidly growing companies.
• International trade capabilities are something nearly every mid-size company will need to manage its foreign exposure. Partner with a bank that is knowledgeable about operating in foreign countries and has the ability to provide financial solutions in these locations.
• Access to capital markets can be important to some large corporations that seek a diverse funding source. Accessing various capital markets requires a banking partner with specialized capabilities and proficiency in this area.
• Hedging strategies are critical for companies that need to manage the risks associated with interest rate and foreign currency fluctuations. A banking partner with expertise in these areas can develop and recommend hedging strategies to protect the company's capital base and minimize impact to their earnings.
• Sophisticated treasury management tools become essential as a company grows and its operations become more complex. Robust treasury management technology helps create efficiencies and provides the information reporting a company's financial management team needs to make informed decisions.
Whatever the phase of your company's development, be strategic in your choice of a commercial banking partner. It will pay off in the long run –– helping your business grow faster and minimizing disruption along the way.
The foregoing article is intended to provide general information about choosing a banking partner and is not considered financial or tax advice from Union Bank. Please consult your financial advisor.
Submitted by Union Bank
Gail Ives is Senior Vice President and Manager of Union Bank's
San Diego and Orange County Commercial Treasury Services.
She can be reached at
(619) 230-3750 or gail.ives@unionbank.com.