HEALTH CARE: MEDICAL CENTER'S VITAL ROLE SHOULD SAVE IT FROM BUDGET CUTS
Key To Survival
Monday, May 28, 2012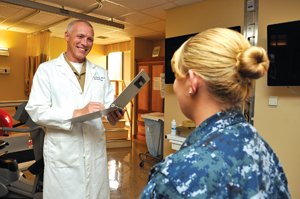 Kasper said the overall feeling is San Diego will be high on the priority list for funding. Factors to consider are its reputation as a military town, its role as an important homeport for the Navy, the positioning of major Marine Corps installations locally, and the large number of sailors and Marines returning from combat.
"Consider this in addition to the fact that the new defense strategy puts a greater emphasis on the Pacific and it's unlikely San Diego will have to brace for major changes … but a lot will be contingent on the budget," Kasper said. "San Diego definitely shows time after time it's a critical piece of the U.S. security apparatus."
Shared Accountability
Sharing his optimism is Naval Medical Center San Diego's Deputy Commander Capt. Mark Kobelja, who says Congress and the Department of Defense have always taken military medical care seriously and have generously provided resources.
"It's very clear our leaders are dedicated to the health of military members and their families and the wounded warrior," said Kobelja, adding that the medical center's expenses are conscientiously reviewed on a regular basis. "Independent of the national debate on the budget, we constantly review every day the dollars we spend. We look at it as a gift of the American people, and we share accountability with our civilian colleagues."
Kobelja, an anesthesiologist and former director for surgical services at the National Naval Medical Center in Bethesda, Md., before arriving at Naval Medical Center San Diego last July, said it's difficult to speculate what might or might not happen with the budget but his experience has shown that the medical needs are not ignored.
"I think we're going to get what we need for the mission we have," he said. "If the budgets change, it's only because the requirements change."
As one of the largest military health care facilities regionally, Naval Medical Center San Diego provides comprehensive services from neonatal care to pediatric and adult intensive care to surgical procedures including an abundance of cancer surgeries. Its range of capabilities extends to most health care services other than heart transplants, Kobelja said. For routine clinic-based medical care, patients have access to 11 primary care clinics that can address nonemergency conditions from smoking cessation to cold remedies to healthy living counseling.
Balboa Could Benefit From Closures
"We view primary care at the clinics as the single critical way of improving the health of the patient," said Kobelja, adding that the clinics help active duty personnel maintain medical readiness.