HEALTH CARE: MEDICAL CENTER'S VITAL ROLE SHOULD SAVE IT FROM BUDGET CUTS
Key To Survival
Monday, May 28, 2012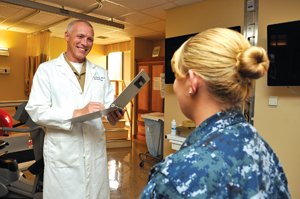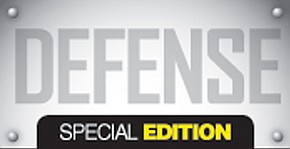 Though military health care services are one of the larger targets of defense spending cuts, local leaders hold out hope that Naval Medical Center San Diego will be spared severe financial hits.
Advantages that weigh heavily in its favor: a Pacific Rim location, significant populations of active duty and retired military personnel in the region, and a national commitment to serving wounded warriors.
Stature also counts for a lot. What started in 1914 as a tent dispensary to support a Marine regiment has grown into a 1.2 million-square-foot multispecialty hospital and ambulatory complex that served more than 20,000 inpatients and over 1.3 million outpatients last year.
Known to many as "Balboa Hospital" for its location in the southeast corner of Balboa Park, the medical center serves nearly 100,000 active duty military members and their families and retirees who are enrolled for care among 250,000 eligible residents locally. Sustaining all of the activity associated with running a 268-bed facility, 11 primary care clinics and 10 dental clinics is a staff of some 6,200 military and civilian professionals and an annual budget ranging from $517 million in fiscal year 2010 to $583 million in fiscal year 2011, not including the salary and benefits of active duty personnel.
Likelihood of Budget Impacts Small
But its funding is largely dependent on a Department of Defense budget that has come under "sequestration," a term for a congressional decision to have automatic cuts of $500 billion from the Department of Defense budget during the next 10 years starting in January 2013. That's on top of $450 billion over a decade of defense cost-cutting that went into effect last year under the Budget Control Act.
Although sequestration will have an impact on facilities and services, specific cuts are not being identified as a strategic move by military planners who don't want the cuts perceived as easily manageable and doable.
Because there is no cost-cutting analysis being produced by the Department of Defense, Joe Kasper, deputy chief of staff for Congressman Duncan D. Hunter, said there is no way to know how one particular facility will be affected.
"It's impossible to say right now what's going to happen with one facility over another," Kasper said. "They're (military medical facilities) necessary, they play a critical role. Generally they rate very high, so the likelihood of significant impacts is small but where there's budget reductions there's always the possibility for some types of impacts."
Kasper said the overall feeling is San Diego will be high on the priority list for funding. Factors to consider are its reputation as a military town, its role as an important homeport for the Navy, the positioning of major Marine Corps installations locally, and the large number of sailors and Marines returning from combat.
"Consider this in addition to the fact that the new defense strategy puts a greater emphasis on the Pacific and it's unlikely San Diego will have to brace for major changes … but a lot will be contingent on the budget," Kasper said. "San Diego definitely shows time after time it's a critical piece of the U.S. security apparatus."
Shared Accountability
Sharing his optimism is Naval Medical Center San Diego's Deputy Commander Capt. Mark Kobelja, who says Congress and the Department of Defense have always taken military medical care seriously and have generously provided resources.
"It's very clear our leaders are dedicated to the health of military members and their families and the wounded warrior," said Kobelja, adding that the medical center's expenses are conscientiously reviewed on a regular basis. "Independent of the national debate on the budget, we constantly review every day the dollars we spend. We look at it as a gift of the American people, and we share accountability with our civilian colleagues."
Kobelja, an anesthesiologist and former director for surgical services at the National Naval Medical Center in Bethesda, Md., before arriving at Naval Medical Center San Diego last July, said it's difficult to speculate what might or might not happen with the budget but his experience has shown that the medical needs are not ignored.
"I think we're going to get what we need for the mission we have," he said. "If the budgets change, it's only because the requirements change."
As one of the largest military health care facilities regionally, Naval Medical Center San Diego provides comprehensive services from neonatal care to pediatric and adult intensive care to surgical procedures including an abundance of cancer surgeries. Its range of capabilities extends to most health care services other than heart transplants, Kobelja said. For routine clinic-based medical care, patients have access to 11 primary care clinics that can address nonemergency conditions from smoking cessation to cold remedies to healthy living counseling.
Balboa Could Benefit From Closures
"We view primary care at the clinics as the single critical way of improving the health of the patient," said Kobelja, adding that the clinics help active duty personnel maintain medical readiness.
Retired Rear Adm. Kenneth D. Slaght, immediate past president of the National Defense Industrial Association, said there's a general sentiment that the health care portion of the budget may fare better than other aspects of the budget because there is a certain amount of fixed costs that can't go away. Chief among them is care for the wounded warrior as the war in Afghanistan winds down.
There's even the possibility that Naval Medical Center San Diego could grow as other military medical facilities get consolidated, Slaght said. There's still the potential for another round of "Base Realignment and Closures" and health care facilities could fall under that category, he said.
"Balboa could potentially benefit from that if they close down facilities elsewhere," he said. "It's a big, highly effective facility that if you have to move a function that's the kind of place you'd like to move to. It's well established and equipped to take on that function."
Slaght added that the Department of Defense has sent clear signals that the Pacific region will be a high priority theater and the Balboa's operations, particularly its outreach services on the Navy hospital ship Mercy and humanitarian aid missions, will be looked upon favorably in regard to financial decision-making.
Another bright sign was no specific cuts to Naval Medical Center San Diego were indicated under the National Defense Authorization Act, which was passed by the House of Representatives on a 299-120 vote May 18, according to Aaron Hunter, press secretary for Congresswoman Susan Davis. The bill, which authorizes defense spending and appropriations, includes a 1.7 percent pay raise, Impact Aid Funding for military children, transition assistance for members leaving the service, and additional efforts to combat sexual assault. The price tag for the NDAA is $8 billion over spending caps agreed to in the Budget Control Act last year.
Hunter said the $8 billion in potential cuts would be determined by the Armed Services Committee and the appropriators. Still to be worked out is a Senate version of the NDAA, which will meld into one uniform piece of legislation that will be sent to the president for approval.
Hunter said Davis does not want to see further cuts come from the health care or personnel side of the budget.
"While a number of decisions were made to restore cuts from the president's budget, we will need to resolve this difference at some point," Davis said in a statement. "This means that programs will need to be cut. My hope is that the pay and benefits of our brave men and women will not be the bill payer when we must reduce spending in this bill."