BIOTECH: BIOSURPLUS LOOKS FOR BOSTON OUTLET, ALSO EXPANDING SERVICES
Biotech Hubs Are Firm's Stepping Stones to Success
Monday, May 21, 2012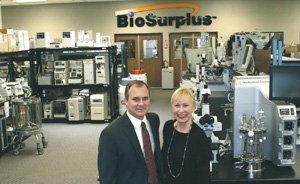 BIOSURPLUS
CEO: Preston 'Cinco' Plumb.
Revenue: In the past six years, the company has grown its revenue fivefold to approaching $10 million.
No. of local employees: 25.
Investor: KI Investment Holdings.
Headquarters: Sorrento Valley.
Year founded: 2002. (Plumb purchased the company in 2005.)
Company description: BioSurplus' team of scientific experts has pioneered solutions for every stage of the lab equipment lifecycle. The company is dedicated to maximizing the value and use of laboratory equipment for its customers by providing a website of dynamic inventory as well as holding live and online auctions. It is also developing software solutions that allow clients to manage their own equipment.
Key factors for success: Since purchasing the business in 2005, Plumb has invested in software, infrastructure, service and repair and has assembled a team with deep scientific knowledge. The challenge is to help companies maximize their laboratory assets while providing high-quality instruments to the people who need them at a more affordable price than new purchases.
BioSurplus is ambitiously making its way into major biotech hubs one metropolitan area at a time...