ADVERTORIAL: CFO OF THE YEAR AWARDS SUPPLEMENT
The Next Porsche 911
Monday, March 19, 2012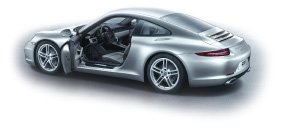 The name Porsche evokes images of engineering excellence, cutting-edge design, and speed. Through decades of automotive ingenuity, the Porsche brand has maintained its prestige, reputation and ability to remain the most recognized sports car in the world. This year, Porsche strengthens its position in the high performance automobile industry with the introduction of its re-envisioned iconic 911.
From every angle, this sports car is unmistakably a 911. While holding true to the Porsche 911 Carrera design philosophy, the sleek, high-styled new car has a longer wheel base, but is both lower and lighter than its predecessor. With its two engine sizes, the new 911 Carrera is able to provide improved performance, handling, and even better fuel economy than before. The 911 Carrera is equipped with a 3.4-liter, 350hp six-cylinder engine, while the Carrera S is fitted with a 3.8-liter, 400hp six-cylinder engine, both with an optional PDK (manual gearshift combined with automatic mode) transmission available.
The new Porsche 911 Carrera and Carrera S
celebrated its world premiere at the 2011 IAA Frankfurt Motor Show. Then, it officially debuted in North America at the Los Angeles Auto Show last November. The first new 911 models just arrived in U.S. dealerships this February, including San Diego's two locations – Porsche of San Diego and Hoehn Porsche.
The legacy of the 911 is a testament to the passionate loyalty Porsche owners feel toward their cars. Almost as soon as the original 911
went into production, buyers were using it in hill climbs and autocrosses. Soon Porsche itself
started to produce lightweight and enhanced performance 911 vehicles for their motorsports customers. In 1967, Porsche built 20 911 "R" models with stripped interiors, thin-skinned aluminum doors, and modifications to the engine to create a true competitive racer. These lightweight rockets were the start of the 911 racing legend which continues to this day.
Throughout its 60-year history, Porsche has developed numerous technologies that have advanced vehicle performance, improved safety and spurred environmental innovations within the automotive industry. The company continues to celebrate its heritage by adding
to its long list of motorsports victories dating back to its first Le Mans win in 1951. Today,
with more than 30,000 victories, Porsche is recognized as the world's most successful manufacturer in sports car racing.
Porsche's distinctive designs range from the 911 series to the Boxster and Cayman
sports cars, the Cayenne sport utility vehicle, and four-door sedan, Panamera.
View the new 911 at your local San Diego Porsche Dealer locations:
Porsche of San Diego, 9020 Miramar Road, San Diego, CA 92126, (858) 695-3000,
http://san-diego.porschedealer.com
Hoehn Porsche, 6800 Avenida Encinas, Carlsbad, CA 92011, (760) 438-4434,
http://hoehn.porschedealer.com.