TRANSPORTATION: CENTRALLY LOCATED OFFICES CAN HELP BUSINESSES ATTRACT TOP TALENT
Freeways Steer Moving Decisions
Monday, March 19, 2012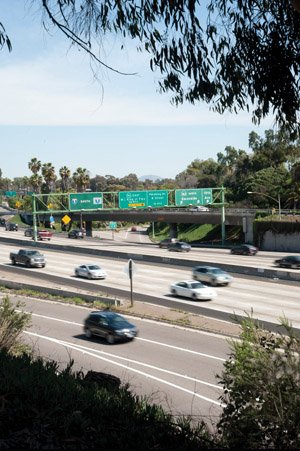 "Time is money, and the faster it takes to get on and off the highway, the better it is for them," he said.
In San Diego, certain industries seem to cluster together, which often is the result of factors that have very little to do with highway proximity. For example, the life sciences and biotechnology industries are concentrated in and around UC San Diego.
Convenience Counts
Mike Morera, senior director in the San Diego office of Cushman & Wakefield, a commercial real estate brokerage, said while the area has prestigious cache and benefits the many scientists and researchers who work there, it's not at all convenient to the region's key freeways.
"It's a beautiful area, but it's tough to get in and out of," Morera said.
Recently, one life sciences company, Dart Neurosciences LLC, bucked the trend and set up its operations just off Interstate 805 on Lusk Boulevard in Sorrento Mesa, Morera said.
The company, which is engaged in research on therapies to maintain cognitive vitality throughout life, decided to purchase a building formerly occupied by Nokia for a more central location, and to draw upon a much wider employee base, he said.
Calls to the company weren't returned by press time.
South Poway's industrial park area may be appealing to companies because of the availability of space, price and relatively new facilities, but it's no favorite among many workers because of longer drive times to and from Interstate 15, Morera said.
"It's appealing, but it's also gotten some push back from employees who don't want to be five miles off the freeway," he said.
Because it's centrally located and has fairly good access to a number of key freeways, Sorrento Mesa has one of the lowest office vacancy rates in the county. According to a fourth-quarter report from Cushman & Wakefield, there's only a 7 percent vacancy rate in office space, compared with a vacancy rate of 14 percent for the entire county, Morera said.
Of course, there is nice freeway access in Otay Mesa in the South County as well, but the distance to the center of the county makes it less desirable to many businesses, this despite having lease rates that are less than half the rates in the center, Morera said.
"And with the increasing fuel prices, it's making that area an even tougher sell," he said.
Prev Next