Executive Profile: Robert A. Rauch
Monday, March 12, 2012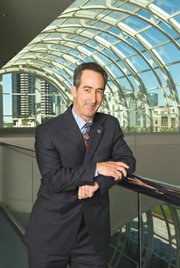 RESUME
Name: Robert A. Rauch.
Company: R. A. Rauch & Associates Inc.
Titles: President, certified hotel administrator.
No. of employees: 130.
Year founded: 1991.
Birthplace: Flushing, N.Y.
Age: 58.
Current residence: Carmel Valley.
Family: Wife, Linda; daughters, Melissa and Meredith.
Robert A. Rauch serves as president of R. A. Rauch & Associates Inc., the firm that manages the Homewood Suites by Hilton, Hilton Garden Inn in Del Mar, and others. Rauch has a B.A. in hotel administration from Western International University and a M.S. in tourism administration from Arizona State University. He has served as chair or president of several tourism organizations. Rauch teaches at Arizona State University, publishes Hospitality Innsights at hotelguru.com and is a certified hotel administrator.
BUSINESS PHILOSOPHY
Essential business philosophy: Provide "wow" customer service.
Best way to keep a competitive edge: Stay in top physical and mental shape.
Guiding principles: Everything in moderation and train your successor(s).
Yardsticks of success: Happy hotel guests, clients, employees and family.
Goals yet to be achieved: Finding time to travel with my wife and to play more golf.
JUDGMENT CALLS
Best business decision: Buying a hotel.
Worst business decision: Buying a restaurant (my wife paid off my debt when we married).
Toughest business decision: Terminating management personnel.
Biggest missed opportunity: Not having cash during recessions.
Mentor: My parents; they instilled values and still serve as trusted advisers.
Word that describes you: Passionate.
TRUE CONFESSIONS
What you like best about your job: Making hotel guests happy.
What you like least about your job: Myriad spreadsheets.
Pet peeves: Average and/or pathetic service.
Most important lesson learned: Don't sweat the small stuff whether in marriage or business and live a balanced life.
Person most interested in meeting: Jerry Coleman, respected and loved San Diego Padres announcer, war hero and baseball star.
Three greatest passions: Family, friends, playing sports.
First choice for a new career: Baseball player.
PREDILECTIONS
Favorite quote: "Dreams come true. Without that possibility, nature would not incite us to have them. " — John Updike.
Most influential book: "The World is Flat," by Thomas Friedman.
Favorite status symbol: Haven't gained a pound since high school.
Favorite restaurant: The Marine Room.
Favorite place for business meetings: Bistro 39 in Torrey Hills.
Favorite vacation spot: Puerto Vallarta.
Favorite way to spend time: On a cruise with the family.