REAL ESTATE: MARKET IS REBOUNDING; CONSUMER CONCERNS STILL LINGER
Commercial Real Estate Recovery at 'Halftime'
Monday, March 12, 2012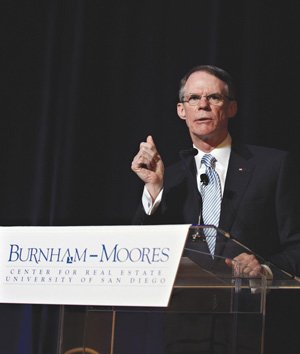 Experts at a recent commercial real estate conference said the San Diego County market is well on its way to recovery, but hasn't shaken off the hangover effects of the Great Recession.
Among those are lingering consumer jitters, and loan debt still facing over-leveraged commercial owners who bought properties at pre-recession peak prices.
"We're probably just halfway through this difficult period," said Richard K. Davis, chairman and CEO of U.S. Bancorp, keynoting the 16th annual Real Estate Conference, presented by the University of San Diego's Burnham-Moores Center for Real Estate, at the Hilton San Diego Bayfront Hotel.
Several panelists invoked Davis' theme of "It's halftime," noting that economic challenges are more than matched in the commercial sector by some historically favorable conditions, including low interest rates, ample financing sources, and competitive lease pricing for commercial space.
"This low interest rate environment probably saved real estate from much bigger problems," said Sam Davis, a senior managing director with Allstate Investments, a division of Allstate Insurance Co. of Chicago.
Davis said about 50 percent of Allstate's property acquisition lending in the past year took place in the multifamily sector, but it will likely be scouting other sectors this year, including grocery-anchored retail, office buildings and distribution centers.
Multifamily fundamentals remain sound, although Allstate is watching for signs of overbuilding in some U.S. markets, he said.
Steve Scott, a senior vice president in the San Diego office of Kilroy Realty Corp., said the investment firm plans to take advantage of the current financing climate to build up its West Coast portfolio this year, as it did in 2011.
Scott said the company has also received several inquiries from retailers interested in locating at a mixed-use development in San Diego that is being planned by Los Angeles-based Kilroy.
Kilroy's One Paseo project, billed as a "Main Street for Carmel Valley," is under review by San Diego planning officials. It would be built at the intersection of Del Mar Heights Road and El Camino Real, and is proposed to include 500,000 square feet of office space, a 150-room hotel, 600 multifamily units, and 270,000 square feet of retail space.
"We're in active negotiations with tenants," Scott said, noting that portions of the project could be completed in 2014 and 2015.
Less Is OK
Commercial property investors have resumed acquisitions at a steady pace in recent months, but are more realistic about pricing and expected return on investment, said Stephen Silk, a senior managing director with capital services firm Eastdil Secured.
Prev Next