RETAIL: GROCER, MALL MAKE HORTON PLAZA MARKET FRIENDLY
Team Effort Brings Jimbo's to Downtown
Monday, June 25, 2012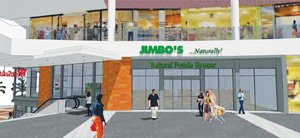 JIMBO'S… NATURALLY!
CEO: "Jimbo" Someck.
Financial data: Not disclosed (privately held).
No. of local employees: 300.
Headquarters: San Diego (Carmel Valley).
Year founded: 1984.
Company description: Natural foods grocer with four local stores and a fifth set to open in 2013.
Key factors for success: Company emphasizes locally sourced and organic produce and food items, community involvement and personal customer service.
Jim "Jimbo" Someck has taken on the giants of the grocery world for nearly 30 years, and managed to grow his locally based natural-foods store, Jimbo's… Naturally!, to its current four locations around San Diego County...