REAL ESTATE: THE PROPERTIES BENEFIT FROM LOCATION, EVEN NEIGHBORS
The Best Buildings Deliver 'Class-A' Returns for Their Owners
Monday, July 30, 2012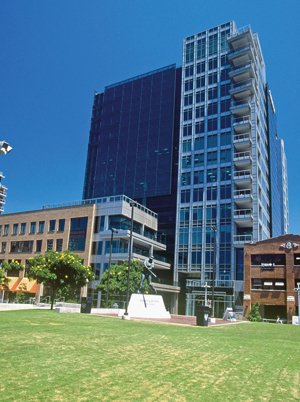 METHODOLOGY AND DEFINITIONS
NOI: A company's net operating income after operating expenses are deducted, but before income taxes and interest are deducted. London Group Realty Advisors based NOI on each property's total assessed value for the 2011 tax year.
CAP RATE: Capitalization rate is a rate of return on a real estate investment property based on the expected income that the property will generate. Capitalization rate is used to estimate the investor's potential return, dividing the income the property will generate by the total value. Based on recent market conditions, London Group's income data for properties listed assumes a cap rate of 6.35 percent.
RBA: Rentable Building Area — Square footage in a building that is available for lease. Excludes areas such as corridors, stairwells and lobbies.
NOI/SF: A property's net operating income, divided by its rentable square footage.
Which of the dozens of gleaming Class A office properties in San Diego County generate the best returns for the owners?
To answer this question, the San Diego Business Journal commissioned the The London Group Realty Advisors, a San Diego-based real estate consultancy, to conduct an exclusive research effort assessing the class A office properties in selected submarkets. Using data from the CoStar Group combined with other industry and public data, the London Group estimated the net operating income (NOI) of dozens of buildings in the region. From that list, it selected the top performers in the downtown, UTC, Carmel Valley and Mission Valley submarkets.
The top performers in each submarket by net operating income per square foot were:
• Downtown: DiamondView Tower with a region topping NOI of $33.70/sq. ft.
• Carmel Valley: One Del Mar, with the second-highest NOI of $30.01/sq. ft.
• UTC: 4225 Executive Square generates an NOI of $24.58/sq. ft.
• Mission Valley: Hazard Center Office Tower with an NOI of $18.51/sq. ft.
These numbers are something of a surprise. As the top performing building, DiamondView Tower — while downtown — was not in the city center where many high-rise office towers are clustered. More importantly, the performance of the region's leading Class A building reflects a unique locational relationship that reinforces the first rule of real estate: location, location, location. In this case, while the building's location is somewhat off the beaten path, neighboring real estate in the form of Petco Park brings unique value that is reflected in the net operating income the building generates.
Prev Next