PROFILES: BRIGHT IDEAS TAKE OFF WITH BACKING FROM BRILLIANT LEADERS
Legendary Entrepreneurs Share Their Recipes for Success
Monday, January 23, 2012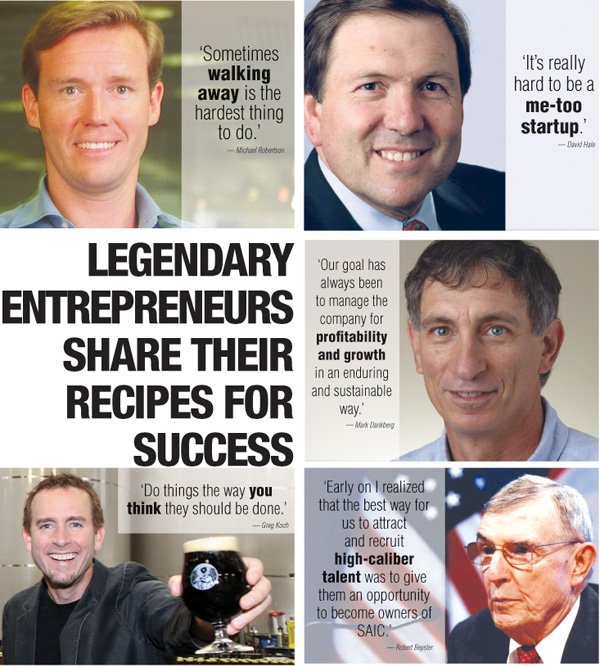 "It's really hard to be a me-too startup," Hale said.
Two other key factors for success are capital and good management.
Success Built on Staff
Mark Dankberg, who built Carlsbad-based ViaSat Inc., puts talented employees at the center of his formula.
"Our goal has always been to manage the company for profitability and growth in an enduring and sustainable way," Dankberg said by email. "The most important key to that is recruiting the most talented technical professionals in the industry and giving those people an environment to do their best work."
Dankberg and two other employees of M/A-Com Linkabit founded ViaSat in 1986. The company offers satellite communications gear and services to the government and, increasingly, the consumer. This month it introduced Exede, a fast satellite Internet service. ViaSat shares trade on the Nasdaq under the symbol VSAT.
SAIC, now an $11.1 billion, publicly traded defense contractor based in Virginia, famously began life in a downtown La Jolla office, next door to a ballet studio. It was 1969, and founder Robert Beyster, a former General Atomics employee, had landed federal contracts to calculate the effects of nuclear blasts.
Beyster's startup had an ocean view and dancers practicing on the balcony. "It was wonderful," he recalled. Revenue in the first year was $243,000.
Eventually, the founder had to stop doing physics and leave it to others. "I was forced to turn my attention to higher-level company issues and opportunities," he recalled. In the years that followed, SAIC diversified to take on a variety of contracts for government and industry.
Beyster stepped down from his role as SAIC chairman in 2004. SAIC left San Diego five years later.
Employee Ownership a Priority
Beyster cited three factors in making his startup into a success. They included hiring good managers and administrators, and keeping the customer happy with great service.
Another crucial factor was employee ownership.
"Early on I realized that the best way for us to attract and recruit high-caliber talent was to give them an opportunity to become owners of SAIC," Beyster said by email. "We accomplished this by way of direct grants of our stock, stock options, and later with an ESOP (employee stock ownership plan). We also rewarded outstanding performance with promotions and cash bonuses.
"I personally believe that employee ownership was a highly motivating force within SAIC, and many employees have confirmed to me that this was the case."