PROFILES: BRIGHT IDEAS TAKE OFF WITH BACKING FROM BRILLIANT LEADERS
Legendary Entrepreneurs Share Their Recipes for Success
Monday, January 23, 2012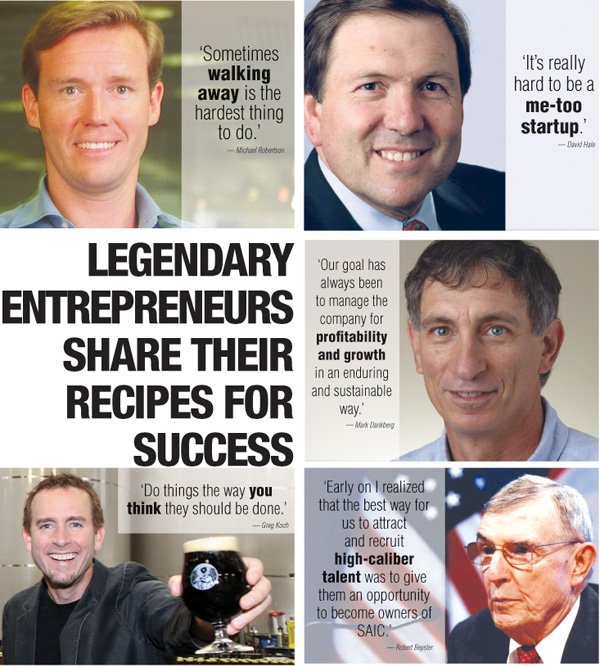 A key part of founding a company is knowing when to quit.
Persistence is an admirable trait, says Michael Robertson, who has founded several companies. However, "there's a fine line between persistence and stubbornness."
"Sometimes walking away is the hardest thing to do," said Robertson. "It's humbling to kill an idea and move on, but you have to do it."
Robertson made his biggest splash in the business world with an Internet music company called MP3.com. He built it with the help of venture capital, took the company public in 1999 and — after legal battles with the music industry — sold it to Vivendi Universal SA, now Vivendi, for $372 million in 2001.
A Robertson project that received less publicity was something he called Media Minds. It was a foray into the world of digital photo albums that never really took off. In a recent interview, Robertson said he saw his first digital camera in the mid-1990s and thought that photo album software could complement it. He said he worked on the project for a couple of years but nothing came of it. At the time, digital cameras were not yet inexpensive and pervasive.
"I was too early," Robertson said.
Today, other enterprises occupy the digital photo album territory.
A Variety of Ventures
Robertson has had other ventures. He started and sold Linspire, a Linux software company, as well as SIPphone, aka Gizmo5, a voice over Internet protocol software company. He's now involved in another online music venture, MP3tunes Inc., as well as DAR.fm, which lets users play back radio shows.
Robertson's advice to entrepreneurs is to be dynamic. A startup idea may need a tweak here or there. "Sometimes little tiny changes have a dramatic impact," he said. Or the idea may need a lot of change.
The dynamic approach, he said, may be especially helpful in the fast-changing world of information technology.
David Hale works in a separate technology world. Hale, CEO of Hale BioPharma Ventures, has a long resume. He helped start many health care and biotechnology companies, including Gensia Inc. and Viagene Inc. (which have since been acquired by other companies), and Somaxon Pharmaceuticals Inc. In the mid-1980s, Hale took the CEO's job at the granddaddy of San Diego biotechs, Hybritech, when it had only 30 employees.
Hale offered three key factors that can make a startup into a success. First, the startup needs a good technology platform, product offering or idea. The product or technology has to be different from what's already on the market.
Prev Next