INNOVATION: TOOLS REDEFINE CARE PROCESS; PATIENTS MORE INVOLVED
Mobile Health, Genomics Change Doctors' Role
Monday, February 27, 2012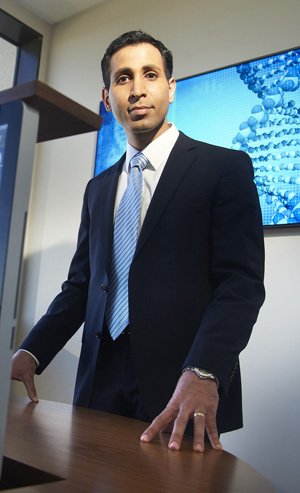 Dr. Samir Damani doesn't want patients to dread visiting his office. He wants them to look forward to it as much as they'd look forward to a trip to an Apple store at the mall.
So Damani designed the lobby of his medical practice, MD Revolution Inc., located in La Jolla's XiMed Medical Center, with colorful modern décor and a storelike display of the mobile health tools his patients use to monitor key biometric data such as heart rate and exercise levels.
"My goal is to make people excited to come here and learn about their health," said Damani, who works on a team with co-founder Dr. Sunil Bhoyrul and Chief Technology Officer Vincent Valentino. "I want medicine to be fun and cool. We're giving people the toys and tools to help them reach their goals."
As you may have guessed, MD Revolution isn't the usual medical practice. Damani, who's also a practicing XiMed cardiologist, isn't a primary care doctor and doesn't try to be. He likes to think of himself as more of a preventative medicine coach.
Damani launched the MD Revolution business concept in February for patients who want to understand their genetic predispositions and create a personalized plan to stay healthy using the latest mobile gadgets.
Prevention a High Priority
His focus is helping his clients prevent and modify the typical course of diabetes, heart disease, high blood pressure, and obesity, among other chronic disorders.
The company sells packages that mostly range between $2,000 to $10,000 and include the price of wireless tools such as Apple's iPod Touch and Fitbit Inc.'s wireless fitness trackers. Patients receive the tools at their visit and are trained to use them properly.
So far, MD Revolution's services aren't covered through insurance plans, Damani said; patients pay out of pocket.
Nonetheless, Damani believes that his nontraditional approach to guiding patients to better health — an approach that incorporates genomic data, mobile devices, and preventative care strategies — will become the standard model in the future of health care.
"This is really all about changing behavior," Damani said. "That's not an easy thing to do. But we have to do it because chronic disease is crippling America. Doctors need to do more than just treat disease. They need to know what else is going on in their patients' lives."
Gadgets, DNA Data Motivational
Conditions such as obesity and diabetes are closely tied to overeating and a sedentary lifestyle Damani said, citing a study that showed positive changes to diet and exercise were more effective at preventing heart attacks than taking the blockbuster drug Lipitor, he said.
Prev Next