BUILDING: TENANTS EXPECT ENERGY EFFICIENCY IN PROPERTIES
Construction Industry Keeps Going on Green
Monday, December 3, 2012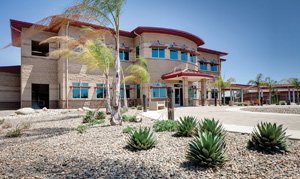 She said smart metering, storage and other technology are allowing building owners to feasibly update existing buildings to monitor and control energy consumption.
Eric Stenman, national chief of enterprise development in Balfour Beatty Construction's San Diego office, said the firm anticipates annual growth of approximately 25 percent nationally over the coming eight years in sustainable projects, including new construction and building retrofits.
Public and Private Outlooks
"For now it's going to be the larger public sector projects, but it will be followed up over time by the private sector," Stenman said. He said the firm has recently worked on several large government projects where sustainability factored prominently, including a Wounded Warrior treatment center at Marine Corps Base Camp Pendleton near Oceanside, the military's first-ever such facility certified as LEED Platinum.
Stenman said an improving local economy is likely to first spur an increase in private-sector building upgrades, rather than new construction, as upgrades allow more flexibility and tend to be less costly in terms of timing, property acquisitions and related development factors.
McGraw-Hill also reported results of a study anticipating continued national green investments by public school systems and universities, citing factors such as reducing building operating costs and improving health and productivity for workers and students.
As of mid-2012, San Diego ranked 10th nationally on the U.S. Green Building Council list of cities with the most LEED projects, either certified or registered in the national program.
A recent report by the brokerage firm CBRE noted that the vacancy rate for San Diego County's green office buildings was 4 percent lower than for nongreen properties, and green buildings on average commanded higher rents in the local market.
Prev Next