PROPERTY: MEDICAL OFFICE LOCATIONS INVOLVE MANY CONSIDERATIONS
Healing Properties
Monday, August 27, 2012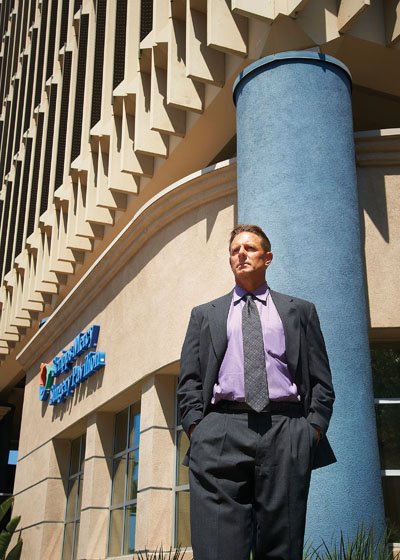 Health care providers have the same basic office needs as most other businesses, whether it's the right amount of hassle-free parking, a well-maintained building with good signage that doesn't confuse or turn off visitors, or ample space to grow with the customer base.
However, they face a crucial limitation when it comes to addressing what experts say is the top priority for many medical practices: locating on or near the campus of a major local hospital.
There are only so many buildings that meet that description, and much of the new health care related space built recently in San Diego County has already been spoken for by the hospitals themselves.
That leaves practitioners having to weigh the costs and benefits of locating adjacent to or a good distance away from hospitals, and the choice often depends on variables like the medical specialty, and where the doctors have practice privileges.
"Some practices will literally require that that they be located within walking distance of a hospital," said Stephen Dok, vice president in the San Diego health care division of brokerage firm Voit Real Estate Services.
He said that applies in particular to doctors in obstetrics and gynecology, as well as pediatrics. It applies less so in areas like orthopedics, which has been gravitating steadily in recent years toward the use of outpatient facilities in satellite locations sometimes far from hospital campuses.
Location, Location, Location
The hospital-adjacent (if not on-campus) medical building, filled with numerous complementary practices, remains the preferred venue for many doctors.
"It's all about synergy and the ability to make referrals," Dok said. "You want to be able to send that patient to someone down the hall or down two flights to get something taken care of right away."
Location also has its costs, however. Dok noted that providers can expect to pay a 15 percent to 20 percent premium in rents for a location next to a hospital, compared with comparable facilities in another location.
According to the brokerage firm Cushman & Wakefield, San Diego County's vacancy rate for medical office buildings located off hospital campuses was 10.2 percent at the midpoint of 2012. The situation was tighter for on-campus buildings, with a vacancy of 7.6 percent.
Operators of MedDerm Associates Inc., a dermatology practice located on Third Avenue in Hillcrest for the past six years, spent the last two years looking for a new home with better amenities to serve a growing clientele, even coming close at one point to purchasing their own building in another location.
Parking Is a Priority
"Our patients were complaining about the parking, so one of our biggest priorities was getting more parking," said MedDerm CEO Christian Hoag, whose wife is the practice's lead dermatologist, Dr. Michelle T. Pelle.
After much searching and waiting, operators came across a larger leased space not far from the practice's current site, in the Village Hillcrest medical building on Washington Street, where it will soon relocate its three practitioners and eight support staffers.
The practice was able to get a bigger space on generally better terms, including a lower per-square-foot leasing cost compared with its current home. More importantly, it will retain its proximity to other practices and two major Hillcrest hospitals that provide key patient referrals: Scripps Mercy Hospital San Diego and UC San Diego Medical Center.
"A lot of the medical staff at Scripps Mercy are also our patients," Hoag said.
Travis Ives, a senior associate in the Healthcare Practice Group of Cushman & Wakefield in San Diego, said federal health insurance reforms and other changes in care delivery over the past several years have steadily altered the real estate requirements of practices.
The latest reforms, recently upheld by the Supreme Court, could accelerate the trend of larger group practices housed in larger facilities, as smaller practices either cease operating or decide to join up with larger care providers.
'Opposite Agendas'
Some of those larger practices will still want to be adjacent to hospitals, but others — for instance, providers of orthopedic and other outpatient services — will prefer to locate elsewhere to be closer to customers. In fact, hospitals themselves increasingly are setting up off-campus outpatient facilities emphasizing preventive care, in part to lessen traffic in emergency rooms.
"They really have opposite agendas," Ives said. "The private practitioners depend on referrals and want to be located as close to the big hospitals as possible. The big hospitals are looking to establish links with the neighborhoods where their patients live, so their move is toward satellite centers away from their main campuses."
Cushman & Wakefield's latest quarterly medical office report noted that local health care property vacancy rates range from 6.6 percent in San Diego's high-demand midcity submarket, to 15.3 percent in North County.
Rent costs generally reflect supply and demand dynamics. Average rents for leases completed in the first half of 2012 ranged from $2.25 per square foot in East County, to $2.77 in South Bay, $2.97 in North County, $2.98 in the I-15 corridor and $3.22 in midcity San Diego.
Cushman & Wakefield noted that the county's overall medical property vacancy rate fell during the past year, from 9.8 percent to 9.3 percent, and is expected to continue declining in the coming year. Direct asking rents actually dropped 1.7 percent in the past year, to a countywide average of $2.78 per square foot, but will likely hold steady in the coming year, since the growth of new leasable space will remain slow.