ADVERTORIAL: TEAM MEMBERS AT VALLEY VIEW CASINO & HOTEL HAVE HIT THE JACKPOT
San Diego's Favorite Casino is Also One of San Diego's Favorite Places to Work
Monday, August 20, 2012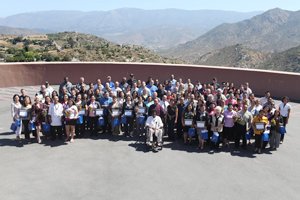 "Valley View Casino & Hotel employs 1,000 team members who help maintain the family atmosphere we strive for. Every team member dedicates themselves every day to positively contribute to Valley View's ongoing success. I am so proud to get to work with such an amazing group of individuals," said Howard.
Valley View Casino & Hotel focuses on excellence on communication, guest service, interpersonal relationships and job coaching classes; all of the content of these classes being consistent with how upper management is modeling the 80/20 philosophy. Classes are focused not only on not developing each team member's skills but developing the "person" as well. We believe that we are not only developing a better team member, but offering skills that will transcend further than just our company and to the community and the individual's personal goals.
Valley View Casino & Hotel places as much emphasis on the relationship with internal guests – the team members – as they do on the relationship with the external guests. Valley View Casino & Hotel's team members are part of a culture that consistently creates a sense of pride by using the 80/20 philosophy and, as many of our team members will say, making them feel like "part of a family." The practice is simple yet difficult: treat your team members well by recognizing their contribution as part of the team; treat them fairly and respectfully; develop them by giving them the tools and training they need to get to a promotable status and most importantly, have fun!
Some of the ways Valley View Casino & Hotel has accomplished this culture is by successfully implementing Human Resources practices such as ongoing, open, and honest communication through leadership meetings, Town Hall Meetings, Department Meetings, weekly Operations Meetings, and daily huddles which communicate hot topics and reiterate guest service standards. Additionally, Valley View Casino & Hotel offers its team members more than 30 valuable benefits including medical, vision and dental insurance, free meals, a matching 401K retirement plan, tuition reimbursement and extensive training and mentoring opportunities to just name a select few. For a complete list of team member benefits just visit valleyviewcasino.com and click on the "Employment" page. These are all reasons to be justifiably proud to be a part of the Valley View Casino & Hotel Team.

To learn more about Valley View
Casino & Hotel please visit www.
valleyviewcasino.com.
Submitted by Valley View Casino & Hotel
Prev Next