ADVERTORIAL: TEAM MEMBERS AT VALLEY VIEW CASINO & HOTEL HAVE HIT THE JACKPOT
San Diego's Favorite Casino is Also One of San Diego's Favorite Places to Work
Monday, August 20, 2012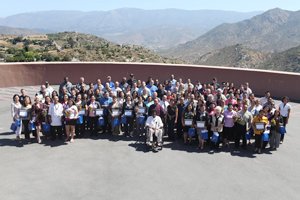 Guests aren't the only ones winning at Valley View Casino & Hotel. Efforts to set ourselves apart from our competitors by providing exceptional guest service which is carried out by treating our team members like family are being realized. The Human Resources department is a proven commodity in the growth and operation of the casino. We are fortunate that Judy Wright, the Vice President of Human Resources, sits on the executive board as a member of the San Pasqual Casino Development Group Inc., which allows our Human Resources department to advise and recommend programs and incentives to strengthen the relationship between the casino and our team members.
"Here at Valley View, we strive to focus our efforts on the team members' success as much as possible. When the team members are happy, everyone is happy, and that alone creates great success in all aspects of the casino," said Judy Wright.
The practice of recognizing the talent contained in our most valuable asset, our people, has proven profitable for Valley View Casino & Hotel as our revenue continues to grow with our guest satisfaction. We are extremely pleased with the business and the culture that has evolved since our casino's opening in April of 2001. This culture is important and comes from the commitment of our executive team, management, and tribal owners (shareholders), all whom understand the core belief that our company exists not just for the shareholders, but also for our team members, guests and the communities in which we do business.

Valley View Casino & Hotel ensures that the team members we select are of high quality and talent. We recognize the strengths of our team members and encourage and support their desires to develop and enhance the skills they possess. Valley View Casino and Hotel's training is focused on a principle we call the 80/20 philosophy – we want our team members to exhibit 80 percent people skills and 20 percent technical skills. Using this philosophy with our guests and team members has allowed us to become one of San Diego's best places to work! As a supplement to this culture, our training programs not only focus on our salaried and management teams but on our hourly team members as well. Bruce Howard, General Manager at Valley View Casino & Hotel helped develop the 80/20 way of thinking and believes it is reflected in the team members' morale on a daily basis.
Prev Next