PRODUCTION: PROCESS OF 3-D PRINTING CAN CUT COSTS, DELIVER QUICKLY
Making its Mark
Monday, August 20, 2012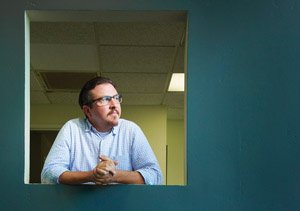 Michael Armbruster was recently manufacturing novelty drink straws for a customer who's considering getting them on the shelves for the holidays.
That isn't remarkable except for the way the straws, shaped as stars and Christmas trees, were being made: on Armbruster's three-dimensional printer.
Three dimensional printing, also called additive manufacturing or stereolithography, has been around since the 1980s, but it's only been in recent years that the technology has improved to the point where it's becoming more used as a way of developing new products.
"One day you're making medical instruments, the next an auto part, and the next, straws," says Armbruster, who runs his business, HD Rapid Prototypes from his Kearny Mesa garage.
Armbruster got the 3-D images for the straws on an email the client sent, programmed the data into his Objet printer, and pressed a button that activated print heads to lay down acrylic based resin in razor thin amounts. Then the layers were efficiently cured by lasers following the material application.
Each of the layers of resin laid down by the printer was only a thousandth of an inch so the process took exactly two hours and 19 minutes. When the process ended, Armbruster had the prototype straws for his client, who would drive over the next day and pick them up.
Top Secret Projects
The straw project was much simpler than some things that Armbruster has been contracted to make. Some are so hush-hush, he's been required to sign nondisclosure agreements.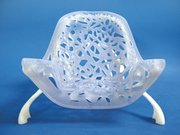 Customers using the service come from such disparate industries as aerospace, medical devices, and entertainment (props for Hollywood movies) but mostly from consumer products and electronics.
"It was definitely a novelty at first," says Donovan Weber, co-owner of Forecast 3D, a Carlsbad-based business founded in 1994 that makes prototypes and production-ready objects. "In the past 18 years it's become the default method of making things."
A large part of Forecast 3D's business comes from the biotechnology and biomedical device industries, Weber says. These companies are developing new types of diagnostic tools related to treating various diseases and need a prototype to examine so scientists and designers can better understand how the product functions, Weber said.
Using his company's printers, a customer could get about 20 replicas of the same prototype. The forms would be distributed to the engineering team, marketing team, sales team, and executives. Upon closer examination, the company might tweak the design several times before settling on the final design.
Prev Next