MARKETING: MARKETER OFFERS 'DO-IT-YOURSELF' VIDEO-MAKING DIRECTIONS
The Right Video Can Make Your Firm More Visible in Many Ways
Monday, August 13, 2012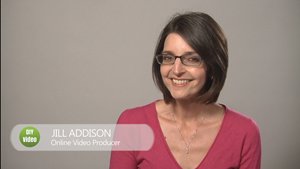 JILL ADDISON, ONLINE VIDEO PRODUCER
CEO: Jill Addison.
Revenue: Undisclosed.
No. of local employees: 1. Addison is the only full-time employee.
Investors: Sole proprietorship.
Headquarters: San Diego.
Year founded: 2009.
What makes the company innovative: Offers a do-it-yourself video course.
Key factors for success: Knowledge of the craft and the agility that comes from being a small company.
America is the land of the do-it-yourselfer: the weekend building contractor, the artist with the studio in her spare bedroom...