REAL ESTATE: RESIDENTS FIND BOTH COMMUNITY AND RETAIL CONVENIENCE
Home And 'Away From Home' Come Together in Mixed-Use
Monday, April 30, 2012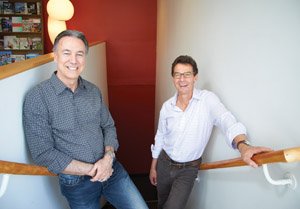 The combination of lack of land and local planners' focus on creating housing closer to jobs is driving the development of more mixed-use, residential projects, say local building industry sources.
"Most of the development that we'll see in San Diego will be for infill projects because it's impossible to find large parcels of land and get these entitled (obtain all appropriate permits)," said David Malmuth, president of Idea Partners, which is trying to develop about 90 acres in the East Village section of downtown San Diego.
Malmuth, along with partner Pete Garcia, are part of growing trend of builders who have abandoned older planning concepts of constructing separate housing and retail/ commercial spaces.
Single purpose projects that don't include at least some retail aren't getting built as much, especially in denser, urban areas, said Malmuth. His firm wants to turn the upper East Village into a design district, which would be a haven for a variety of design-oriented industries including industrial design, advertising and graphics.
For the most part, downtown San Diego is largely made up of mixed-use residential and commercial projects, said Derek Danziger, spokesman for the Centre City Development Corp., which oversees redevelopment in the area.
Smart Growth
"A great majority of the projects we're doing here are mixed-use because we're trying to activate the pedestrian experience," Danziger said. The goal for downtown and really for all the entire city is smart growth, ensuring that whatever new housing is built is located nearer to jobs and to transit centers, and necessary retail and commercial segments are also close by, he said.
Not only are denser, compact projects more efficient, they're better for air quality and the economy because people don't use their cars as much, said several local developers.
"Mixed-use is civilized living," said infill specialist developer Jonathan Segal, who lives in a live/work space in the Q Building in Little Italy. "In the last 10 years I haven't been driving back and forth to work, and probably saved about 2,500 hours of drive time…I've lived one year longer than most people who had to spend that time commuting to their jobs on the freeway."
Marco Sessa, a senior vice president with Sudberry Properties, said the demographics are causing an increase in mixed-use development. "People are looking to live in places where they have easy access to services," Sessa said.
Sudberry is in the midst of building one of clearest examples of an integrated live-work mixed-use project in the heart of Mission Valley called Civita. Earlier this year, some of the first of 200 condominiums went up for sale, and recently a first wave of tenants moved into what will be a total of 500 residential units in the first phase of the project. At buildout, Civita will have nearly 5,000 residential units as well as office space, retail space, a civic center and park space.
No Need for a Car
"A lot of this development is being done to promote the social aspect of life," Sessa said. The idea is a family could walk down the block, dine at a restaurant, then hang out together at a nearby fountain, all without even thinking of getting into a car, he said.
Paul Barnes, division president for Shea Homes, the subcontractor on Civita's residential units, said instead of mixed use, he prefers the term "adjacent use."
The commercial and retail isn't located beneath the residential in Civita as it is with many other mixed-use projects, but close by, he said. "It's a simpler, and easier for homeowners to understand the project it there's a bifurcation of uses," he said.
Shea Properties is developing a project that has both residential and commercial parts in Barrio Logan called Mercado del Barrio. The key retail tenant for this project is Gonzalez Northgate Market, a supermarket chain of 33 stores that's focused on serving mainly Latino customers.
Retail Tenants Must be Right
Barnes and other developers say that getting the right retail tenant into a particular project is critical for its success.
"You don't want to put a barbecue smokehouse in a residential community," Barnes said. While most mixed-use developments build commercial space on spec (not having tenant leases signed beforehand) a space's general use is usually pre-determined, he said.
Malmuth of Idea Partners said instead of pre-planning for retail space, his focus is more on the office space that will be occupied by high-tech, design oriented companies in the district.
"We're trying to find companies who want to be in this urban environment," he said, adding that his firm has been talking with a few local cutting edge businesses including Qualcomm Inc. and Legend 3D.
A key byproduct of the Idea District is attracting the type of younger, educated workforce that has generally forsaken living in suburban, tract-centric places, several industry sources said.
"These are Generation Y millennial," Malmuth said. "The car has lost a lot of romance for them …They want to be in urban spaces that are walkable and rich in culture and amenities," Malmuth said. "These are people who pick where they want to live first, and then they pick how they're going to support themselves…They're not interested in working in a suburban business park where the highlight of their day is going to a Quizno's."
No Dead Zones
Segal agreed the retail component of mixed-use project can make or break it. Without some retailer that's generating foot traffic, the project could deter other retailers from locating nearby and might result in a dead block, he said.
Segal and his partners in the Little Italy project called Fat City had to shift gears this year, changing the makeup of the project from apartments to a 365 room hotel. While not obligated to do so, Segal incorporated some elements from the former Topps nightclub at the Pacific Coast Highway site into the project. The hotel itself will have two restaurants, but the actual tenant in the ground floor space has yet to be determined, he said.
Mixed use works best in denser urban environments; but it's not necessarily the right answer for every new residential development, Malmuth said.
"It's not for everywhere and not for everybody, but if it's done in the right location with the right execution, it will be a financial success, and also be successful in terms of building a community," he said.