ENGINEERING: ENCINITAS' DUDEK RANKS NO. 1 ON BUSINESS JOURNAL'S LIST
Environmental Firms Seek Balance Between Progress, Preservation
Monday, April 23, 2012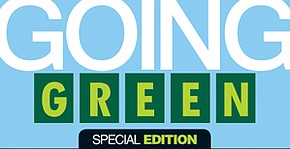 Urbanization is affecting the abundance and balance of the Earth's fragile ecosystems. The 21 companies on the 2012 San Diego Business Journal's Environmental Consultants list provide services to balance necessary and inevitable progress with preserving the environment.
Dudek, ranked No. 1 on the list with 181 local environmental employees, is an Encinitas-based environmental and engineering services firm.
The criterion used for ranking the list is the number of San Diego County environmental employees as of Jan. 1.
"We have had an environmental practice for the last 22 years and it's a predominant part of our business." said Mark Forster, marketing director. "Dudek is strictly focused on California; it's a complex place to do business."
Frank Dudek founded the company in 1980 to provide civil engineering services to water and wastewater agencies, Forster said. In response to a growing need for environmental services in the 1990s, the founder launched an environmental practice with June Collins, who is now Dudek's executive vice president and environmental practice manager of one of the largest such practices in California, Forster added.
"California is a giant Sudoku puzzle in terms of how projects receive regulatory approval," Forster said. "Everything —  from wetlands and habitat, to groundwater and surface water to air quality — is interrelated in terms of the rules, and it would be difficult for any one person to get through this puzzle on their own."
Persistence Pays Off
Dudek's projects include working with the City of San Marcos for 14 years to get the permits necessary for the planned mixed-use, 214-acre downtown area along the San Marcos Creek District, which includes a native habitat preserve and multiple infrastructure improvements. Dudek's environmental permitting specialists interfaced with the regulatory agencies involved. "The permits were recently granted to the city," Forster said.
Another high-profile project for Dudek is managing the development of a Natural Community Conservation Plan for a six-county region in the Mojave and Colorado desert areas, headed up by Collins. The NCCP is a required process that establishes how biological resources can be protected while allowing compatible economic development.
The project is part of the Desert Renewable Energy Conservation Plan, which is part of a 2009 executive order by the State of California that establishes a policy of obtaining a new 33 percent renewable energy portfolio standard for the state, according to a company statement.
Rising Revenues
Santa Ana-based Chambers Group Inc., No. 8 on the list with 62 local environmental employees, reported 372 percent growth in gross local environmental revenue from 2010 to 2011. The company went from $3.3 million in 2010 to $15.6 million in 2011.
"Admittedly, the last several years have not been easy," said Michael McEntee, vice president, biology. "We redirected crew to focus on biological studies and it has been very successful for us."
Chambers conducts environmental surveys that provide a plan to avoid or minimize environmental impacts, provide appropriate mitigation measures, and help a client meet funding dates, according to the company website. McEntee noted that Chambers has 130 biologists on staff "who are experts in solving the challenges faced on a wide range of projects."
Billion-Dollar Project
One of Chambers' significant projects is the Sunrise Powerlink, a 117-mile, $1.88 billion, 500-kilovolt electric "superhighway" from Imperial County to San Diego. San Diego Gas & Electric Co. is building Sunrise Powerlink, which will provide enough energy for 650,000 homes, according to the utility.
"Chambers did all the biological studies, including the pre-screening for sensitive and endangered species," McEntee said. "The line will energize this year."
Chambers also works extensively with the Marine Corps Air Station at Camp Pendleton on extensive wetlands habitat restoration and enhancement of the riparian community to meet habitat requirements for plant and animal species.
McEntee explained that monitoring a site is an important component of a project to ensure that all provisions are carried out. Chambers' scientists are on-site during excavation and, in the process, it is not uncommon to unearth pottery or other artifacts.
"In fact, we recently found the fossil of a prehistoric toothed whale, a never seen before species," McEntee said. "It's now in our lab in Santa Ana being meticulously restored with small brushes and tools."