Executive Profile: Stephen F. Flaim
Monday, April 16, 2012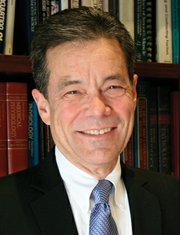 RESUME
Name: Stephen F. Flaim.
Company: Tech Coast Angels.
Title: Chairman of the board.
No. of employees: 300 members.
Year founded: 1997.
What the organization does: Largest organized angel investing group in the world. Members invest in Southern California companies with the potential to rapidly scale into market and financial leadership.
Education: Ph.D., UC Davis, 1975.
Birthplace: San Jose.
Age: 63.
Current residence: Carmel Valley.
Family: Wife, JoAnn; daughters, Bryna, Celia; stepdaughters, Kate, Megan.
Stephen Flaim has a doctorate in human physiology and pharmacology. He has held faculty positions in medicine and physiology at the Pennsylvania State University College of Medicine and senior management roles at the Johnson & Johnson Pharmaceutical Research Institute, the Squibb Institute for Medical Research, Alliance Pharmaceutical Corp., Trega Biosciences Inc. and Galileo Pharmaceuticals Inc.
Flaim is founder and president of Flaim Partners Consulting, a fellow of the American College of Cardiology, the American Heart Association, the American College of Clinical Pharmacology, and the Royal Society of Medicine.
He is a board member of Pivotal Biosciences Inc. and AnaBios Corp., chairman of the board for Leading Biosciences Inc., on the editorial board of the Journal of Pharmacology and Experimental Therapeutics, a technology and business adviser to the William J. von Liebig Center for Entrepreneurism and Technology Advancement at UC San Diego, chairman of the board of directors for the Tech Coast Angels, chairman of the board of directors for the John G. Watson Foundation and active in numerous regional and national scientific organizations.
Flaim is co-founder and CEO of CardioCreate Inc., chairman and CEO of OncoFluor Inc. and special adviser to the Office of Translational Alliance & Coordination at the National Heart, Lung and Blood Institute of the National Institutes of Health.
PROFESSIONAL PHILOSOPHY
Essential professional philosophy: Think ahead.
Best way to keep a competitive edge: Be willing to do the work.
Guiding principles: Explore niches that others avoid.
Yardsticks of success: Doing what I want to do when I want to do it.
Goals yet to be achieved: Successful deployment of a second meaningful health care technology to patients.
JUDGMENT CALLS
Best professional decision: Going to graduate school for a doctoral degree.
Worst professional decision: Wasting time on projects that aren't fulfilling.
Toughest professional decision: Declining several excellent job opportunities.
Biggest missed opportunity: Selling my Qualcomm stock.
Mentor: Kathryn E. Flaim, Ph.D., my first wife, now deceased. She was a constant sounding board for new ideas and provided calm during times of frustration.
Word that describes you: Calm.
TRUE CONFESSIONS
What you like best about your job: Being able to constantly work with different people representing different organizations operating in different sectors of industry and technology.
What you like least about your job: Having to say no.
Pet peeves: People who no-show for meetings they schedule with me.
Most important lesson learned: Don't take yourself too seriously.
Person most interested in meeting: Father Junipero Serra, the famous Franciscan friar who founded the chain of missions in California. I would love to hear him describe what California looked like in those early pre-settlement days.
Three greatest passions: Family, work, travel.
First choice for a new career: Growing apples in Julian.
PREDILECTIONS
Favorite quote: What would you do if you knew you would not fail? — Robert Schuller.
Most influential book: "For Whom the Bell Tolls," by Ernest Hemingway.
Favorite status symbol: Rancho Santa Fe.
Favorite restaurant: Poseidon Restaurant on the Beach.
Favorite place for business meetings: Starbucks at Carmel Creek and state Route 56.
Favorite vacation spot: Telluride, Colo.
Favorite way to spend time: Hanging out at my ranch in Julian with my family.