HOSPITALITY: EATERY PICKS HIP HILLCREST SPOT WITH A LONG HISTORY
Pita Jungle Is Hoping It Can Grow in San Diego County
Monday, April 2, 2012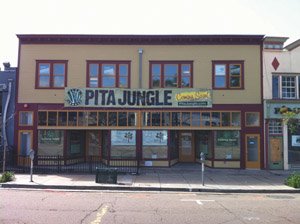 PITA JUNGLE
Founders/CEOs: Bassel Osmani, Fouad El Khodr, Nelly Kohsok.
Financial data: Not disclosed (privately held).
No. of local employees: 80.
Local investors: David DeLorenzo, Andreane Esclapez.
Headquarters: Scottsdale, Ariz.
Year founded: 1994.
Company description: Operates 17 mostly franchised restaurants in Arizona and California.
Key factors for success: Company emphasizes value-oriented, Mediterranean style fare, targeting hip and younger consumers.
Arizona-based restaurant operator Pita Jungle is bringing 80 new jobs to a historic but long-empty former warehouse building in Hillcrest, as it joins several eateries recently making their debut in the San Diego market.
The 150-seat, full-service restaurant is set to debut in mid-April at 1045 University Ave., in a renovated former warehouse built in 1910 and known as the Charles Jurman Building in historic circles. The building had been in decline for several years and was last home to an independent coffeehouse in the late 1990s.
"People we've spoken with are very glad that this building that's been vacant for 15 years is going to have something in it," said David DeLorenzo, a regional development partner with Pita Jungle who co-owns the San Diego restaurant with Andreane Esclapez.
Expansion Plans
DeLorenzo said the company touts a value-oriented menu with health-oriented, Mediterranean-style sandwiches, salads and pizzas. The company was aiming for a vibrant urban neighborhood to make its San Diego County debut, and is looking to add one new location per year in the region in the next few years.
Luke Terpstra, chairman of the Hillcrest Town Council, which advises the city on development, traffic and related quality of life issues, said the walk-friendly neighborhood over the years has seen a steady churn of mostly independent restaurants and related businesses.
Before the recession, most of the new business momentum was along the area of University Avenue west of state Route 163, centered around Fifth and Sixth avenues. That has been shifting slightly in the past couple of years, Terpstra said, pointing to building improvements taking place to the east of the freeway, including the Pita Jungle location.
"It's good to see something going in there after all these years," Terpstra said of the Jurman site. "They've really done it up well and preserved the old-time elements on the exterior."
A.M. Eats, P.M. Sweets
Earlier this year, two Colorado-based companies opened or began preparations for new locations in the eclectic Hillcrest neighborhood, north of Balboa Park, which are their first in the San Diego market. Snooze, a full-service restaurant specializing in breakfast items, recently opened on Fifth Avenue; and D Bar Desserts, a gourmet pastry shop and bistro, will soon open next-door to Snooze.
National chains have also expanded into Hillcrest, including Panera Bread, which opened there earlier this year.
Pita Jungle is not disclosing what it is investing in renovating the site for its new restaurant. Before the company's recent work on the former warehouse, that part of Hillcrest had not seen a lot of activity beyond occasional tenant improvements, according to Marlon Pangilinan, a senior planner with the City of San Diego.
The recent arrival of new eateries coincides with a national recovery for restaurants during the past two years.
According to the industry consulting firm Technomic Inc., the 500 largest U.S. restaurant chains registered a 3.4 percent annual sales increase in 2011 over the prior year. Industry sales rose more than $8 billion, topping $242 billion.
The Hillcrest location is the 17th nationwide for the privately held, Scottsdale-based Pita Jungle, which employs approximately 1,000 in Arizona and California but does not disclose sales figures.