GROCERY: SELECTION OF LOCAL PRODUCE, PRODUCTS HITS SPOT WITH SHOPPERS
Supermarket Finds Fertile Ground for Expansion Here
Monday, July 11, 2011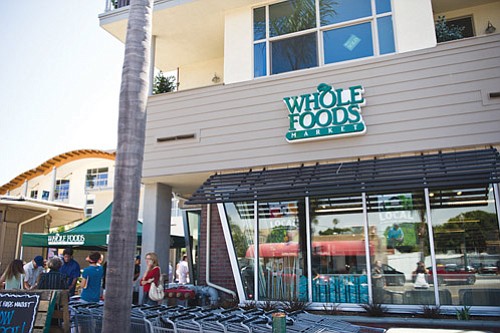 WHOLE FOODS MARKET INC.
CEO: John P. Mackey.
Revenue: $9 billion in 2010; $8 billion in 2009.
Net income: $245.8 million in 2010; $146.8 million in 2009.
No. of local employees: 500.
Headquarters: Austin, Texas.
Year founded: 1980.
Stock: Trades under WFM on Nasdaq stock exchange.
Company description: Operates more than 300 supermarkets selling natural and organic foods, and related specialty items.
Keys to success: Focus on organic produce supplied by local growers.
With its just-opened store in Encinitas and another set to debut in early 2013 in San Diego's Flower Hill neighborhood, Texas-based Whole Foods Market Inc...