HEALTH CARE: PPH'S $956M GREEN FACILITY IS EXPECTED TO OPEN IN 2012
Futuristic Hospital Project Gets Closer to Fruition in Escondido
Monday, February 7, 2011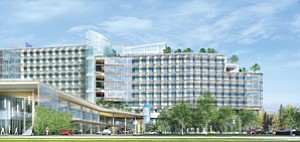 PALOMAR POMERADO HEALTH
CEO: Michael Covert.
Chairman of the board: Ted Kleiter.
Annual budget: $480 million operating budget.
No. of volunteers: 700.
Headquarters: Escondido.
Year founded: 1950.
Mission of organization: To heal, comfort and promote health in the communities that it serves.
Although completion is more than a year away, work on Palomar Medical Center West in Escondido has progressed to the point where David Tam, who oversees construction for the Palomar Pomerado Health district, can fully visualize the state-of-the-art hospital...
Emmet Pierce is a freelance writer for the San Diego Business Journal.