INNOVATION: PARTNERS MOVE STEM CELL RESEARCH TO DIABETES TREATMENT LAB
ViaCyte Takes Kyoto Laureate's Work to Next Level
Monday, April 11, 2011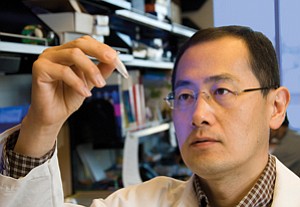 VIACYTE
CEO: John S. West.
Financial information: Not disclosed.
No. of local employees: 40.
Investors: Privately held, venture capital backed.
Headquarters: Torrey Pines, branch in Athens, Ga.
Year founded: Founded in 1999 as Novocell Inc., the company merged with CyThera and Bresagen in 2004, and changed its name to ViaCyte in 2010.
Company description: ViaCyte is a preclinical therapeutic company focused on diabetes, developing therapies with human embryonic stem cell lines.
A San Diego company that is working to bring to market a treatment for diabetes derived from embryonic stem cells is also working with Kyoto Prize winner Shinya Yamanaka — whose invention of a way to derive stem cells from skin cells has been called "the most important stem cell breakthrough of all time...