TRANSPORTATION: COURT HEARING SET THIS WEEK FOR EXPRESSWAY
Road Operators Seek Buyer To Rescue It From Bankruptcy
Monday, April 11, 2011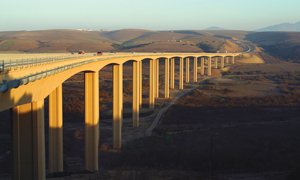 SOUTH BAY EXPRESSWAY L.P.
CEO: Greg Hulsizer.
Financial information: For the fiscal year ending June 30, 2009, the South Bay Expressway L.P. had revenues of approximately $21 million and adjusted earnings before interest, taxes, depreciation and amortization, of approximately $3 million. As of March 22, 2010, the bankruptcy petition date, the company had approximately $640 million in book value of total assets and approximately $570 million in book value of total liabilities. As of Dec. 29, 2010, the value of the asset was declared to be $287 million.
No. of local employees: 50.
Investors: Macquarie Atlas Roads and Macquarie Infrastructure Partners.
Headquarters: Otay Mesa.
Year founded: The current owners financed the project in 2003.
Company description: Owner and operator of a 9.3-mile toll road, developed and operated under a public-private partnership with the state of California. It holds a 35-year lease with Caltrans to own and operate the toll facility until it returns to state ownership.
Operators of the financially troubled South Bay Expressway L...