DEFENSE: COMPANY HAS PAID $522M TO BUY 5 FIRMS SINCE MAY
Kratos Deploying Aggressive Strategy
Monday, April 4, 2011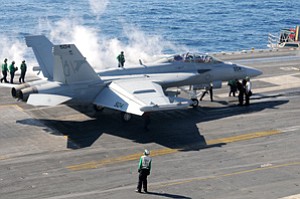 KRATOS DEFENSE & SECURITY SOLUTIONS INC.
President and CEO: Eric DeMarco.
Revenue: $408.5 million in 2010; $334.5 million in 2009.
Net income/loss: Net profit of $14.5 million in 2010; net loss of $41.5 million in 2009.
No. of local employees: 250.
Headquarters: University Towne Center area.
Year founded: 1994 as Wireless Facilities Inc. Changed name to Kratos in 2007.
Stock symbol and exchange: KTOS on Nasdaq.
Company description: Defense contractor.
Kratos Defense & Security Solutions Inc...