SD REAL ESTATE
Recent and archived news stories on: Apartments, Architecture, Brokers, Construction, Housing, Mortgages, Offices, Property Management, Realtors...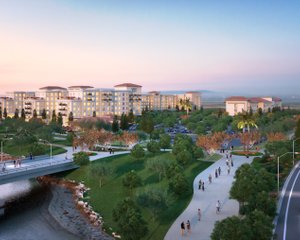 PROPERTY: Hotel Complex, Eatery May Be Finishing Touches
Corky McMillin Cos. has plans for a $100 million, three-hotel project at the mixed-use Liberty Station in Point Loma, which represents the final phase of a decade-long transformation of the former naval training center site.
December 7, 2013 midnight $$
Share
PROPERTY: Activist Groups Clash With Area's Shipyards Over Changes
Homes and heavy industry have coexisted — often uneasily — in Barrio Logan for nearly a century; 2013 turned into the year that the simmering issue boiled into a citywide matter.

PROPERTY: Lawsuit Challenges the Coastal Commission's Approval
The long journey toward an expansion of San Diego Convention Center reached an important milestone this year, when the $520 million project received the blessings of the California Coastal Commission.

PROPERTY: Developers See Housing, Retail and Sporting Opportunities
If one had to declare a single neighborhood as the current development capital of San Diego County, the clear front-runner would be East Village.

Peregrine Realty Partners of Newport Beach has purchased La Terraza Corporate Plaza, an office building in Escondido, for $22.3 million, according to brokerage services company CBRE, which represented the buyer and seller.

Developer Lowe Enterprises has completed the third phase of the $500 million County Operations Center in Kearny Mesa, among the largest ongoing construction projects in San Diego County.
A Miami jury awarded Lennar Corp. $1 billion in civil damages against California developer Nicolas Marsch and his company, Briarwood Capital LLC, on court findings of defamation and conspiracy to extort money from the company.
December 5, 2013 5:01 p.m.

Development firm The Shamrock Group LLC, based in Solana Beach, has obtained a $40 million construction loan for a new outlet shopping center it is building in San Ysidro.

San Diego County Regional Airport Authority, which operates San Diego International Airport, will hold a gathering aimed at helping small businesses win contract work on current airport construction projects.
San Diego County apartment rents during the fall declined 1 percent, while the vacancy rates continued to decrease, according to a recent report from the San Diego County Apartment Association.

Alliance Residential Co. of Phoenix has purchased the 549-unit Coronado Bay Club apartment community in Coronado for approximately $161.5 million, according to brokerage services provider Jones Lang LaSalle Inc., which represented the seller.

Viewpoint Equities of San Diego has purchased two Mission Valley office buildings for a total of $9.9 million, according to Colliers International, which brokered the transaction.

The downtown San Diego office tower at 450 B. St., known locally as the Bank of America Tower, has been sold for $73 million, according to CoStar Group and public data.

A unit of San Diego-based Pacifica Cos. has purchased Emeritus at Escondido, an assisted-living health-care facility, for approximately $3 million, according to CoStar Group and public data.
The California Coastal Commission will review plans for a new 650-room hotel complex at Liberty Station in Point Loma, proposed by a unit of San Diego-based The Corky McMillin Cos.